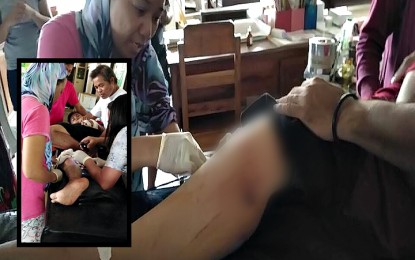 PUERTO PRINCESA CITY, Palawan – A male student swimming with his friends near the mouth of a river in Balabac, southern Palawan was attacked by a seven-foot crocodile on Saturday morning.
A spot report released by the Balabac Municipal Police Station (MPS) late Sunday identified the victim as 16-year-old Parsi Hulia Diaz, a resident of Barangay Poblacion V, Balabac.
Balabac MPS investigator PO2 Mark Anthony Colili said the crocodile attacked Diaz around 10:30 a.m. while he and a companion, Ronel Sara, were returning to a motorboat after swimming in the mouth of a river in the area.
"Noong umaga nagpagupit ng buhok ang biktima sa kaibigan niya. Pagkatapos niya magpagupit, naligo sila sa dagat… may mga bahay doon na floating, tapos noong paahon na siya sa bangka, pag-ahon niya, sinakmal siya ng buwaya (They swam in the morning after his friend cut his hair… there are floating homes in the area, after that he went up to a motor banca, while doing that, the crocodile attacked and bit him)," Colili said.
Sara, who feared the reptile might take him down under the water, hit it on the head with the paddle of their motorboat, causing it to release Diaz.
Diaz suffered bite wounds on his right knee and lower right buttock, Sara said.
"Yong kagat niya ay tatlo. Pagpunta nga namin sa area, nandoon pa rin ang buwaya kanina (He suffered three bite wounds. When we went to the area, the crocodile was still there)," Colili said. (PNA)