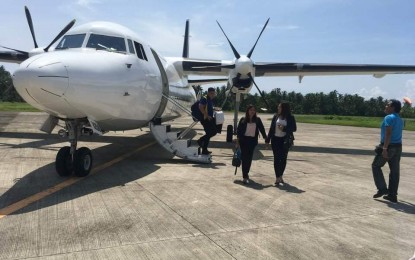 GUIUAN, Eastern Samar – The upcoming operation of an airline firm for the new Clark-Borongan route will bring more development to Eastern Samar province, a local government official said Monday.
Eastern Samar Governor Marcelo Ferdinand Picardal said officials of the Access Credit Development Inc. (ACDI) and Civil Aviation Authority of the Philippines (CAAP) conducted the final check for the flight from Clark to the capital city of Eastern Samar using the aircraft of Leading Edge Air Services Corporation (LEASCOR).
LEASCOR was established in 2016 as the chartering arm of ACDI Multipurpose Cooperative that serves members of the Armed Forces of the Philippines, who are in active service, retirees, those in the reserved force, regular civilian employees and dependents.
Picardal said CAAP officials assured him that they will immediately process the necessary requirements for the airline operation to start soon.
LEASCOR formally expressed its intention last year to operate in Borongan airport during the founding anniversary celebration of the province.
"This is an economic driver for Eastern Samar. We see this as a tool for local development, allowing us to be linked and connected to other provinces and regions because as of the moment we consider this province as isolated," Picardal said.
Major impact of LEASCOR operation will be felt by the tourism industry, Picardal said.
The direct flight to Borongan would mean that tourists no longer need to take a plane ride to Tacloban from Luzon and travel for four hours by land to reach Borongan, the provincial capital.
The flights from Clark to Borongan and from Cebu to Guiuan will significantly reduce travel time of tourists who wish to visit the natural attractions and tourist destinations of the province.
Eastern Samar is home to some of the must-go to places in the region like Calicoan Island and Borongan City, considered as surfers' haven, the Minasangay island ecological park and resort in Balangkayan town, the Dinagkalan Beach Resort in Taft known for its orange colored beach sand.
The province has pilgrimage site regularly visited by devotees such as the St. Antonio de Padua Parish Church in Guiuan town.
Other notable destinations in the province are the historical sites like the Homonhon Island, where Portuguese explorer Ferdinand Magellan first landed in March 16, 1521; Tubabao Island in Guiuan where more 6,000 Russians lived for almost two years while waiting for asylum in other countries; the US Navy 3149 Base in Guiuan town; and the Balangiga Encounter Monument in Balangiga town.
Based on the 2017 statistics of the Department of Tourism, Eastern Samar province welcomed some 78,422 tourists while Borongan City has a total of 57, 945 tourist arrivals. (PNA)