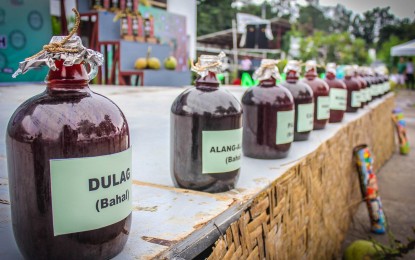 TACLOBAN CITY -- The showcase of best local wine, dubbed as "Oktubafest", will again take center stage in this city on Friday.
The festival, the local version of the German beer fiesta known as the "Octoberfest", will be held at the City's Astrodome here on Oct. 26.
An Waray Partylist Rep. Victoria Noel said in an interview Tuesday the event is the biggest gathering of tuba (coconut wine) producers in the region.
This year's competition has three categories -- the local government unit category best "bahal" (old) and "bahalina" (aged); best "kutil" (special wine mixture); and best tuba-infused dish cooking for hotels and restaurants.
For the open category, there is an on-the-spot "kawit" painting, on the spot photo contest, and on the spot Vlogging contest.
"Kawit" is made of bamboo pole that is used by tuba harvesters. It is attached to the shoulders by a wooden hook and serves as a container of the freshly harvested juice.
Now on its 10th year, the party-list vowed to continue the festival to show support to the coconut industry, which is the main source of livelihood in the region.
"This is synonymous to gaiety and merrymaking and has always been the center of every local festivity, both of the humble and of the grandiose in form," Noel said.
The event also aims to promote the cultural heritage and the tuba industry of Leyte and Samar provinces.
Tuba wine is an alcoholic beverage generated from the sap of coconut palms. In Leyte, the wine is matured up to two years. (PNA)