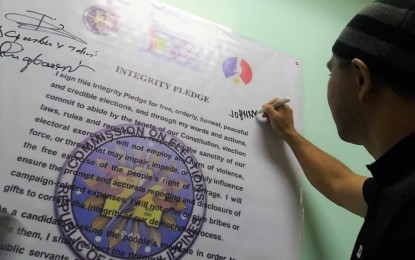 LA TRINIDAD, Benguet -- Although Benguet has been noted as a peaceful province during elections, unlike some of its neighbors in the Cordillera, the Commission on Elections (Comelec) here still held a voters' education on Tuesday that touched on voters' rights and gender issues, as well as made candidates vying for various electoral posts in the province sign a peace covenant.
"The voters' education and gender and development (GAD), and signing of integrity pledge, combined, is like a peace covenant na lahat ng mga kandidato na tumatakbo for elections in the provincial level will sign para magkaroon ng promise na they will uphold the laws of the Philippines and obey the election laws and lahat ng campaign do's and don't's ay susundin nila and with good faith (It's like a peace covenant, where all candidates running for provincial posts will sign as a pledge that they will uphold the laws of the country, obey election laws, and comply with the do's and don't's in good faith)," lawyer Elenita Julia Tabangin-Capuyan, Comelec-Benguet Election Supervisor said after the covenant signing.
Assigned as provincial election supervisor since 2006, Capuyan said she never encountered any election violence nor protest filed by any candidate in Benguet.
All that has been recorded, so far, are minor violations like illegal placing of posters, destruction of election paraphernalia, and violation of the liquor ban on election day.
"They are very peaceful people and they go door to door campaigning for a more personal communication with the electorate," she said. "Benguet, ever since, has been very peaceful. It's 99-percent peaceful, as there have never been cases of election-related violence in the province. Hopefully, it's an accurate prediction that there will also be no violence in the future."
The election officer said that during the campaign period, the candidates in Benguet focus more on what they have done as government officials or what they want to do if given the chance to take a particular government post.
She said the province also hold post-election events, where losing candidates exit gracefully and concede right away, adding they do not file election protests, quo warranto.
"Hindi uso yan dito like in other places. There is a great degree of respect and honor in this part of the country," Capuyan pointed out.
Lawyer Juan Nazarro, a member of the Benguet Provincial Board, told the Philippine News Agency (PNA) in a separate interview that many people in Benguet are related to each other due to intermarriages and they refuse to let politics destroy their kinship.
"We have very close family ties, even if we are from different tribes. But because of the intermarriages, we do not want to hurt each other. We see election na parang friendly competition ito na haan nga diay dinadaelan (We see the election as a friendly competition and we do not want to destroy each other's reputation. It should not destroy the close kinship among the people of Benguet," Nazarro said.
For the candidates in Benguet, the signing of the integrity pledge is just a formality, since it is in the culture and tradition of the Benguet people to hold a peaceful, orderly, and friendly electoral process.
Nazarro said it is this kind of culture that binds the people of Benguet as a family and the reason there has never been any incident of election-related violence in the province.
"As usual met ket peaceful and orderly. Dati nga tradition dayta, haan pay nga nadaddael (It's always peaceful and orderly. It's long been the tradition. It has never been cut)," he said in the Ilocano dialect.
Unlike in other parts of the country, one would find no mud slinging among candidates in Benguet. The candidates even agree to literally share the stage to declare various political parties, doing their campaign sorties together.
"Ang maganda, during the formal rally, normally wala naman yung mga nag aatake. Kasi if you look at the experience of Benguet, yung nag aatake, siya pa ang natatalo. Hindi maganda yung nag aatake. Instead, you present yourself, sabihin mo ang platforms mo and it is up to the people to decide (What is beautiful here is that during formal rallies, nobody attacks anybody because if you look at the experience of Benguet, those who 'throw dirt' at fellow candidates always turn out losers. Instead of doing that, present yourself, your platforms and it is up to the people to decide," Nazarro said.
While candidates do not play "destroy the reputation of another," they cannot avoid the supporters doing their own pep talks.
"Yung mga diska-discussion na parang normal yan, tsismis-tsismis, minsan may mga supporters na gustong panalunin yung isa, kung minsan nagsasabi ng hindi maganda (The supporters discuss, they gossip to make their candidates win and at times they resort to saying bad things about the opponent of their candidate)."
In his district, particularly in the towns of Bokod and Kabayan, Nazarro said candidates even cut up on campaign costs by sharing in the expenses for preparing food for the community.
"Maganda ang Comelec fora because less expense. We contribute. So kung magkano yung food for that day, mag-contribute kaming lahat, less ang expenses (Comelec fora are good because of fewer expenses. We contribute. Whatever the cost of food for that day, we would all contribute for that)," he said.
GAD forum vs. sexual harassment during campaign
Capuyan said Comelec-Benguet has ordered the inclusion of Gender and Development lectures in the voters' education.
"This is the project of Commissioner Rowena Guanzon, for us to integrate gender and development with voters education para yung mga karapatan ng mga babae ay ma-uphold din and for respect (so that the rights of the women will be respected and upheld)," she said.
Capuyan noted that during campaigns, body contact is common, and could be a chance for sexual harassment.
"Hindi nagkakaroon ng sexual harassment cases, pero ito yung gustong gustong topic ng mga tao everytime we discuss GAD. Akala niyo just by placing the hand on the shoulder or inakbayan or itinabi ang hips sa isang tao, meron pa ring signs na pwede siyang makasuhan ng sexual harassment, so maganda ring I-combine with campaigning to protect ang mga kababaihan and minors (There has never been any sexual harassment case here, but this is the topic that many people here like to hear everytime we discuss GAD. You'd think its normal during the campaign that someone places his hand on someone's shoulder, or his arms around someone's shoulder, or have one's hips touch another's. But someone can also be charged for sexual harassment here. So, it's also good to incorporate this type of caution during the campaign to protect women and minors)." she explained.
The Comelec in Benguet has been regularly holding voters' education in the province. (PNA)