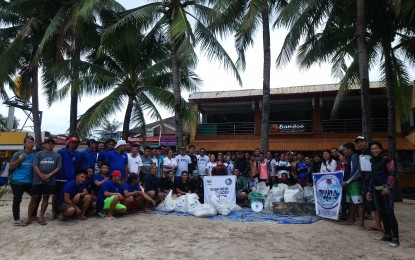 BORACAY ISLAND, Aklan -- An underwater cleanup joined by at least 50 divers was held to mark the start of the biodiversity assessment of coastal and marine areas on the island on Tuesday.
Twelve sacks of assorted trash, mostly plastic and bottles, were collected after an hour of dive, said Michael Martillano, president of the Boracay Business Administration of Scuba Shops (BBASS), a group of divers and scuba shop operators on the island.
Aside from sacks of waste, a total of 13 sacks or 244 kilos of "crown of thorns," a large starfish were likewise collected.
Martillano said the eradication of crown of thorns, which cause coral bleaching, and the underwater cleanup has been a regular activity of the group even before the closure.
He said there has been an infestation of crown of thorns this year, wherein 10,000 kilos was collected in May alone.
With their current collaboration with the Department of Environment and Natural Resources (DENR), Martillano said this will allow them to gather "scientific background" to "predict and to prepare" and to ensure the protection of the marine ecosystem of the island.
BBASS has been recently tapped by the DENR to help in the conduct of the biodiversity assessment of the island.
The biodiversity assessment is to be conducted to come up with an integrated coastal resource management plan for Boracay.
"We are confident that our reef is healthy," Martillano said adding that they are also hoping that the DENR would observe the same scenario.
Martillano said there are more than 20 diving sites around the island.
"Diving is our passion and also our source of livelihood," he said.
The temporary suspension of diving and water sports activities due to the conduct of the biodiversity assessment has been welcomed by the group and other water sports associations on the island.
"Our business is the marine environment, so it is also our responsibility to protect it," Martilllano added.
Marko Hug, chairman of Island Picnic Tours Association, a group offering island hopping activities, likewise expressed their commitment to support the regulations to be set by the Boracay Interagency Task Force.
"We assure that we will help the task force in ensuring that our own members follow the guidelines,"he said. (PNA)