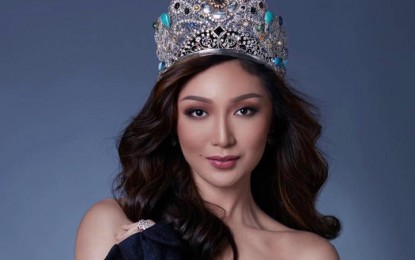 PUERTO PRINCESA CITY, Palawan -- Reigning Miss Earth 2017 Karen Ibasco is amenable to banning single-use plastics to save the world's oceans and to protect marine wildlife.
In a security briefing for the Miss Earth 2018 events in Palawan, Ibasco said Thursday that reducing single-use food and beverage containers and cutleries, which account for a notable amount of trash every year, will also be beneficial to the environment and the health of the people.
"Yong mga plastic, kailangan mong matutunan na i-recycle o i-segregate kasi pwede pa natin siya magamit for another purpose pero medyo malayo pa tayo doon. (We have to learn how to recycle or segregate to use them for another purpose, but we are still far from there)," she said.
Ibasco said it is important that waste segregation at home is practiced to reduce the volume of garbage that goes to the landfills.
She noted that when people are careless with their garbage, these would reach the oceans and break down into smaller particles called "microplastics" that are harmful to aquatic life and even to humans.
Ibasco cited studies indicating that microplastics are a problem in the marine environment, and human health too since they can be ingested by fish and crustaceans that are sources of protein.
Ibasco, who was crowned in 2017, said that being Miss Earth enabled her to know the realities about the environment, including the conservation of oceans and aquatic life.
Meanwhile, some 59 candidates of the Miss Earth this year are in the northern municipality of San Vicente Friday to witness the signing of an ordinance that will protect the sea turtles (pawikan).
They represent the fire and water group of the international pageant that has a total of 90 beautiful candidates from all over the world.
On Oct. 27, the candidates will have the chance to personally appreciate the sea turtles in their natural habitat in the waters of San Vicente.
They will be in Puerto Princesa City at the Coliseum on Oct. 28 to join the 31 other candidates of the Miss Earth for the Talent and Long Gown competitions. (PNA)