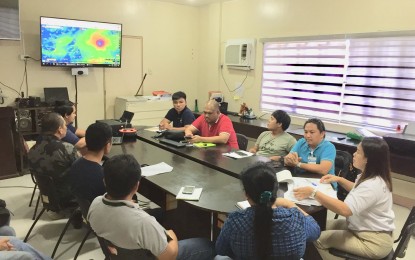 ILOILO CITY - - Preparations are now underway for Typhoon 'Yutu,' which is expected to enter the Philippine Area of Responsibility (PAR) on Saturday, as well as the observance of the 'All Saints' Day and All Souls' Day on Nov. 1 and 2.
Various member-agencies of the Regional Disaster Risk Reduction Management Council in Western Visayas (RDRRMC-6) gathered in a pre-disaster risk assessment (PDRA) on Friday to lay down plans for the preparedness, prevention and mitigation, response and rehabilitation and recovery.
In an interview, Ma. Aletha Nogra, chief Disaster Risk Reduction and Management Division, said that they are "on alert' status for Yutu although Western Visayas is not expected to be directly hit by the expected typhoon.
"Somehow, it will be far from us but it can enhance our localized thunderstorms so there is really a need to alert our local government units," she said, adding that the region might also experience isolated rain showers and partly cloudy skies.
Based on the result of the meeting, she said, the Department of Interior and Local Government 6 will issue a memorandum to all LGUs in the region to be prepared, ensure that the weather advisories are disseminated and to closely monitor their areas, especially those that are high risks of flooding and landslide.
According to Nogra, typhoon Yutu will be named 'Rosita' once it enters PAR on Saturday. However, she said that it will mostly make a landfall in Northern Luzon.
She said the Department of Social Welfare and Development 6 has 16,000 standby food packs.
Meantime, Nogra said that they will elevate their status to 'blue alert' starting Oct. 31 until Nov. 5, for the continuous monitoring of the typhoon and for Undas.
She said that member-agencies will be on duty 24/7 during the said period at the Emergency Operation Center.
"There are selected group of people who will render duty so that there will be a coordinated and spontaneous gathering of information and its dissemination to the public," she said.
Nogra said that they are expecting the flock of crowds in the various cemeteries and places of workshop during Undas.
She assured that all member agencies are already starting to disseminate information to prepare their offices and ensure orderly and peaceful observation of Undas.(PNA)