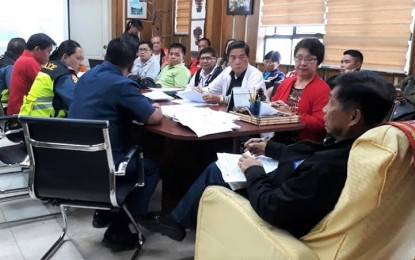 BAGUIO CITY – The Cordillera Regional Disaster Risk Reduction and Management Council (DRRMC) on Friday afternoon elevated the region's alert level to "blue", requiring all its councils and barangays to stand by and monitor 24 hours the expected entry of Typhoon Yutu into the Philippine Area of Responsibility (PAR).
The CDRRMC officials made the announcement during a meeting held in Camp Allen here, after the Philippine Atmospheric, Geophysical and Astronomical Services Administration (PAGASA) forecast that "Yutu", which will be given the local name "Rosita", is expected to enter the PAR on Saturday and make landfall either in Isabela or Cagayan on Wednesday.
"The weather forecast for this weekend is partly cloudy to cloudy skies with isolated rain showers," Eugene Ventura of PAGASA-Baguio said during the meeting.
As of Friday noon, "Yutu" was spotted 1,955 km. east of Northern Luzon with maximum winds of 180 km. per hour (kph) and gustiness of up to 220 kph.
During the meeting, CDRRMC officials expressed concern over the situation in Itogon.
Kelvin Carlo Gaerlan, geologist of the Mines and Geosciences Bureau (MGB) – Cordillera, reported the finding of numerous cracks and faults in Itogon, which may cause another landslide once it rains.
"For the municipality of Itogon, Benguet, there is a high possibility of landslides once rainwater sips into cracks and holes and saturates the soil within the landslide areas affected by Typhoon Ompong," Gaerlan said as he presented the report on areas that run the risk of flooding and landslide once "Yutu" strikes the region.
"Let us pray that it does not land here," the CDRRMC officials said during the meeting.
Department of the Interior and Local Government - Cordillera Assistant Director Araceli San Jose requested a copy of the MGB-Cordillera report on the susceptible areas in the region's provinces, which they can use as reference for the advisory they will be issuing to local government units.
She also talked about the possibility of a pre-emptive evacuation, especially in Itogon, to prevent a repeat of what happened during "Ompong's" onslaught that killed more than 80 persons in the municipality.
Meanwhile, Baguio City Mayor Mauricio Domogan advised residents to prepare for "Yutu".
The mayor, who chairs the City Disaster Risk Reduction and Management Council, called for an emergency pre-disaster risk assessment and emergency response meeting with concerned government offices, utility companies, and volunteer groups to map out contingency measures on the four areas of disaster preparedness: mitigation, preparedness, response, and relief and rehabilitation.
"Barring possible changes in its direction and intensity, the city has to prepare for the worst-case scenario," he said during the meeting held at his office. "The general public is advised to be vigilant and to monitor the latest weather advisories while those living in low-lying and mountainous areas are advised to perform pre-emptive evacuation and take appropriate actions against possible flooding and landslides resulting from heavy rains."
Domogan formed Task Force "Rosita" made up of five clusters: health and emergency medical services; camp coordination and management (relief, food and non-food); search, rescue and retrieval; management of the missing and dead; and rapid damage assessment and needs analysis and clearing.
He also ordered the activation of all Barangay Disaster Risk Reduction and Management Committees, through the Association of Barangay Councils. to drum up preparations and evacuation in landslide-prone areas. (PNA)