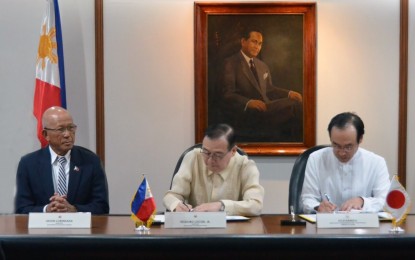 MANILA -- The Philippines and Japan on Wednesday signed exchange of notes for two official development assistance (ODA) projects geared towards rehabilitating the Metro Rail Transit Line 3 and enhancing defense.
On Tokyo's grant aid for Philippine defense enhancement, Japan will be allotting some ¥10.68 billion or at least PHP5 billion-worth of spare parts and maintenance equipment of UH-1H helicopters to the Philippine Air Force (PAF) consisting of the following categories: airframe structure; dynamic power system, control system; rotor system; hydraulic system; electrical system; instrument system; accessory equipment; and others.
The UH-1H helicopters are used in the PAF's activities related to humanitarian assistance and disaster relief, transport, and intelligence, surveillance and reconnaissance.
On the country's mass transport system, Japan's grant aid involves a ¥38-billion (around PHP17.79 billion) worth loan for the MRT3's complete rehabilitation.
Foreign Affairs Secretary Teodoro Locsin Jr. and Japanese Ambassador to the Philippines Koji Haneda signed the Exchange of Notes at the Department of Foreign Affairs (DFA) in Pasay City.
In his speech, Locsin noted how Japan has supported the Philippines' development objectives.
"Throughout the years, Japan has vigorously and unfailingly supported the priorities of the Philippine government for the well-being of the Filipino people -- and through economic and development assistance as well as in enhancing our defense and security capabilities. It is help that has no agenda but friendship, decency, and a deep and abiding regard, as much for the safety and well-being of neighbors, as for oneself," Locsin said.
"This is why we have elevated our relationship with Japan to a strategic partnership. Today's Exchange of Notes affirms this ever-growing, mutually beneficial and gratifying relationship between our two countries and our two peoples," he added.
Haneda, meanwhile, reflected on the successes of Philippine-Japan partnership, and how it remains to be committed to its "joint work".
"With the signing of these two projects, let me assure you that we do not only mark our commitments on paper, we also pledge our all-out efforts in bringing these projects into successful completion," Haneda said.
The exchanges of notes were witnessed by Defense Secretary Delfin Lorezana, Transportation Undersecretary for Railways Timothy John Batan, Finance Undersecretary for the International Finance Group lawyer Mark Dennis Joven, Japan International Cooperation Agency (JICA)-Tokyo Senior Vice President Yasushi Tanaka, JICA-Philippines Chief Representative Yoshio Wada and officials from the DFA, the Departments of Finance, Transportation, and National Defense, the Japanese embassy and JICA.
Japan is the Philippines' top ODA partner and has contributed significantly to the country's development and capacity building measures in areas that include infrastructure, security, health, trade, tourism, human resources, agriculture, education, humanitarian assistance and disaster relief, among many others.
The two countries celebrated the 60th anniversary of the normalization of their diplomatic relations in 2016. (PR)