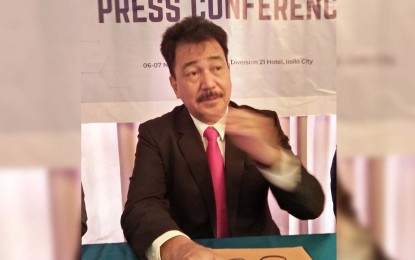 ILOILO CITY -- State universities and colleges (SUCs) that extend free medical tuition may consider the "no option to pay" being implemented by the University of the Philippines-Manila to make sure that their students render return service after obtaining their medical licenses.
In a press conference here on Wednesday, Commission on Higher Education (CHED) Chairman J. Prospero E. De Vera III, said around 1,200 medical students are enjoying the free tuition made available in eight SUCs in the country.
Also, he announced that they also approved to offer the same at the University of Southeastern Philippines in Davao.
However, he said there are those who opted to pay because the tuition is low, and they don't want the return service requirement.
"In UP they have no opt-out. What you get is not just free tuition, it is value for money," he said.
He added that public schools that offer the free medical tuition are talking to each other, so he thought that "it's where it is going to go".
"Anyway, you don't want to return service, you can always study in other schools," he said.
Nonetheless, another option would be to increase the fund and make it more substantial. This way they can provide other support such as book allowance.
He said that CHED is working with the Department of Health (DOH) "to create clear pathways" so that after passing the physician licensure examination, they have options to choose from.
For return service, they may opt to have their residency in government hospitals, join the "Doctors to the Barrio" or do health research.
De Vera was the keynote speaker during the Western Visayas Health Conference organized by the Western Visayas Health Research and Development Consortium in partnership with the regional offices of the Department of Health (DOH), Department of Science and Technology (DOST) and the DOST-Philippine Center for Health Research and Development (PCHRD).
Meantime, one of the recipients of the free medical tuition is the West Visayas State University (WVSU) that landed in the seventh rank among the top 10 best performing medical schools in the country in the 2018 Physician Licensure Examination.
Dr. Luis M. Sorolla Jr, WVSU president, said 91 out of 94 takers passed the examination, equivalent to a passing rate of 96.81 percent. One of its graduates, Jill Therese Au, made it to the top 10 with 89.58 percent score.
"Since 2014 we had been having topnotchers and high percentage of passing in the licensure examination. There was even a time that we have 100 percent," he said.
Sorolla said Dr. Au is a recipient of the free medical tuition implemented starting two years ago. Hence, she is already expected to render an institutionally-based return service.
Right now, they are also crafting a return service scheme in coordination with CHED and other SUCs. He said that some of their students decided to pay their tuition so as not to render the return service defined under the Unified Student Financial Assistance System for Tertiary Education.
The return service agreement was suspended this year, he said.
He emphasized that their return service should be "voluntary community service, which should enhance their learning".
"It should be along their field of expertise, how do they use their knowledge in the course that they have taken in order to promote a better quality of life for the people," he said.
At present, WVSU has more than 400 medical enrollees but not all have availed.
On the average, the tuition is PHP29,000 to PHP30,000 per semester plus miscellaneous that is roughly PHP10,000 to PHP15,000. "Many can well afford it," he said.
He said of the PHP18 million budget this school year, they only utilized PHP12 million.
Sorolla hoped that the university can increase its enrollees once their new four-storey College of Medicine building becomes operational.
"The number of students is determined by our facilities, our faculty and other resources of the university," he said. (PNA)