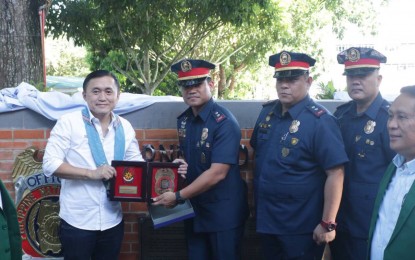 MANILA — Former Special Assistant to the President (SAP) Christopher Lawrence "Bong" Go on Wednesday reminded policemen to remain loyal to the Philippine flag.
"President Rodrigo R. Duterte wanted to remind our policemen not only to perform their job -- to protect and serve the people, but be loyal to the Philippine flag," Go said in media interview at NPC Heroes Hall, Camp Castaneda in Silang Cavite, where he extended his congratulations to police personnel who finished the Public Safety Officers Orientation Course.
This was also Go's message as speaker during the graduation ceremonies of the course "Madalubhasa" organized by the National Police College (NPC) in Silang, Cavite.
NPC is mandated to provide continuing education and career training needs of the police, fire and jail officers.
The former presidential aide said he recognizes the important role of policemen in the relentless drive of President Duterte against illegal drugs.
He also assured them of the government's full support to the Philippine National Police.
"We respect our policemen. They are President Duterte's partner in the campaign against illegal drugs, " he added.
In a bid to intensify his campaign against illegal drugs, Duterte on Tuesday announced that he will mobilize the entire government machinery by issuing a memorandum circular.
He said he will activate a National Anti-illegal Drug Task Force that will be composed of the personnel from the Philippine National Police, the Armed Forces of the Philippines, the Bureau of Customs, the Coast Guard, and other government agencies. (PR)