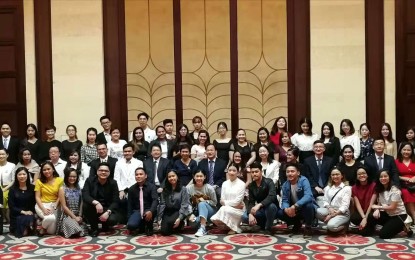 DAGUPAN CITY -- Filipino delegates to the first-ever Philippines-China Youth Friendly Exchange Program commended the technological advances and the preserved Chinese cultural heritage in Xiamen City in China.
"Very impressive ang Xiamen. Ang ganda ganda ng city, nakuha nila yong mga industries and tourism (Xiamen is very impressive. It is also very, very beautiful and they were able to develop appropriate industries and tourism). The China national government fully supports its development. Hopefully, in the our country, we would also develop other provincial cities like Cebu, where I live, not just Manila as the provincial cities also have a lot of potential," said Tyler Abad, one of the delegates from Cebu City.
Jessa Mae Sato was astonished by how the city developed into a "smart city" within a span of only 40 years.
"Mabilis napaunlad ang city within 40 years lang. Maganda lalo na yong underwater subway nila. Nag-ask ako paano kapag lumindol pero may nagsabi na malayo sila sa Pacific ring of fire and nakaready yong structure para sa mga ganoong instances (The city developed swiftly within the span of 40 years. It is beautiful specially the underwater subway. I asked what if there will be an earthquake, somebody answered that the city is far from the Pacific ring of fire and the structure is ready for such instances)," Sato said.
Li Xiangping, director general of Xiamen Foreign and Overseas Chinese Affairs Office, in his welcome remarks during the delegates' visit there on Oct. 24, said the city was set up as Special Economic Zone (SEZ) in 1980 upon the approval of the State Council.
"We are putting together our strength and working together like a dragon boat," he said.
Xiamen comprises six districts within its jurisdiction, covering land area of 1,699 square kilometers, and has a residential population of 4.01 million, Jiang Fan of Fujian Provincial Foreign Affairs Office said.
"Xiamen has a most competitive economy in China. As one of China's first SEZs, it maintains rapid economic and social development. The city's competitiveness ranks top among all large and medium-sized cities in China. It is also one of the 10 most innovative cities in China and a National Model City for Balanced Development," he added.
Song Yuan Zhuang of Xiamen Information Group said the city uses real-time monitoring.
"Passengers can check the actual location of the buses at the bus stops, while every resident in the city uses electronic cards (e-cards) for payment, whether for transport, shopping, among others," he said.
Song admitted that the use of e-cards, which also serve as the resident's identification card, strengthened the city's security system.
"If another person uses another person's e-card, the system can detect hence, identity theft or e-card theft can be prevented," he noted.
Song disclosed that with the city's smart or high technology monitoring, recorded crime rate on 2017 is only at 5 percent, or a ratio of 300 crimes per 100,000 population average crime rate.
"There advances in technology is high-end compared to other countries and they are thoughtful on ensuring their people's security. This is like a challenge for us (youths) to someday lead our country to development like Xiamen City," said Shanylle Reluya, one of the Filipino delegates from Cebu City.
The delegates in the recent China-Philippines Youth Exchange Program were toured in Gulangyu Island, one of the most popular tourist spots in Xiamen, where they rode a ferry to get to the island.
Xiamen's other tourist attractions are Wanshi Mountains, South Putuo Temple, Hulishan Fort, and Jimei University, among others. (PNA)