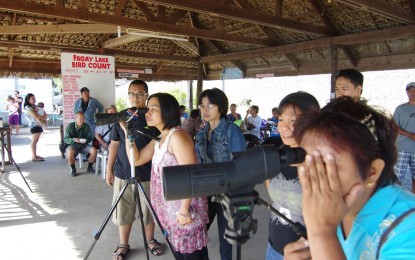 LAOAG CITY — Bird watchers all over the Philippines are eager to witness the return of the great cormorant, a migratory bird known for its matted feathers, come Nov.19.
The locals of Paoay, Ilocos Norte are the most excited of all, as flocks of this bird species naturally migrate to this town, specifically the Paoay Lake, every November. Ten years ago, a festival dedicated to the return of the great cormorant here was launched.
The 387-hectare Paoay Lake National Protected Landscape is a feeding point to migratory birds.
Since the first holding of the festival in 2008, local birders have frequented the lake's view deck in Nagbacalan village, for a chance to see the great cormorant, along with other bird species at the landlocked lake.
Through the initiative of Dr. Petrus Calope, a member of the Wild Bird Club of the Philippines (WBCP), in cooperation with the local government of Paoay and the Department of Environment and Natural Resources (DENR), bird watching in the province has slowly gained popularity, enticing local and foreign enthusiasts to visit the legendary Paoay Lake.
Starting the month of November, bird watchers frequent the area with binoculars, telescopes, and high-end cameras.
On Monday, Calope's group will again install their birdwatching equipment at the view deck in Nagbacalan village while inviting all other interested guests and visitors to join the fun.
Over the past five years, the WBCP have monitored the presence of migratory birds at the Paoay lake wetlands, considered one of the country's important migratory bird sites.
Based on the latest Asian Waterbird Census, the Philippine ducks are commonly seen in the area with an average number of 600. The cormorants are also commonly seen in the lake, around 10 of these or more at a time.
The Community Environment and Natural Resources Office (CENRO) has also noted that Paoay Lake has been providing shelter to other bird species like the Little Grebe, Great Egret, Little Egret, Cattle Egret, Tufted Duck, White-brow Crane, Common Kingfisher, White-collared Kingfisher, and the White-throat Kingfisher.
"I take pride in my hometown for having such a healthy and grandeur lake. Its beauty and cleanliness have been preserved for our next generation to see and enjoy," Paoay resident Rod Sadian said.
Most Paoay residents feel the same. (PNA)