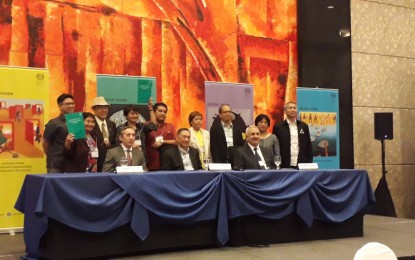 MANILA -- The International Labor Organization (ILO) and the European Union (EU) on Tuesday launched a new EUR262,000 (about PHP15.7 million) responsible supply chain project in Manila.
The three-year initiative is part of EU's EUR900-million funding on Responsible Supply Chains in Asia (RSCA), which covers six countries -- China, Japan, Myanmar, Philippines, Thailand, and Vietnam – and is being jointly implemented with the Organization for Economic Cooperation and Development (OECD).
"For the Philippines, ILO is focused on one sector -- the agriculture. In some countries, such as Thailand, three sectors are covered," said Ruby Bañez, ILO-RSCA national project coordinator.
The funding consists of research and training programs for both public and private sectors, with priorities on big companies and small and medium enterprises employing workers in the field of agriculture.
"We're going to do a research to look at the decent work challenges in the specific sector we have selected. It will be agriculture and under agriculture, we will also select a sub-sector, which is food commodity," she said told the Philippine News Agency (PNA).
Bañez said a dialogue among different sectors will be introduced to create a "multi-stakeholder partnerships" aimed at crafting a concrete plan of action on responsible business conduct and supply chain in the country.
"Our hopes are high, we want to help develop multi-stakeholder partnerships. We will organize meetings, inviting different sectors -- businesses, government -- to hold dialogue, more so, once the research results on challenges are produced," she said.
Khalid Hassan, director of ILO Philippines, noted that along the supply chain, businesses may buy raw goods and materials without knowing that those were made under unfair and unsafe working conditions.
Challenges remain in addressing working conditions, such as ensuring fair wages and benefits, extending social protection, promoting occupational safety and health, respecting freedom of association and collective bargaining, and guaranteeing security of tenure, the ILO official said.
Figures show that in the Philippines, more than half of the 2.1 million child laborers are in agriculture.
"These are complex issues, which require joint efforts and networks to implement sustainable solutions at the level of macro policies and enterprises," Hassan said.
"The project will help advance sustainable and inclusive growth by encouraging businesses to adopt policies and practices in the areas of human and labor rights and environmental protection standards in line with international instruments," he added. (PNA)