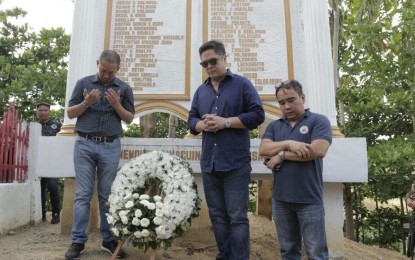 MANILA — Presidential Communications Operations Office (PCOO) Secretary Martin Andanar on Thursday paid tribute to the victims of Maguindanao massacre.
This, as the communications chief, along with Presidential Task Force on Media Security (PTFoMS) Executive Director Joel Sy Egco, led the wreath-laying ceremony to mark the ninth anniversary of the worst election-related violence which left 58 people dead.
"We are here now in the symbolic monument of the 32 massacred journalists in Maguindanao precisely to give respect to the sacrifices of media men in the Philippines," Andanar said in a media interview after the wreath-laying rites in Sitio Salman, Barangay Masalay in Ampatuan, Maguindanao.
Out of the 58 victims, 32 were media workers covering the filing of certificate of candidacy of Esmael 'Toto' Mangudadatu who was then challenging Andal 'Unsay' Ampatuan Jr. for gubernatorial post.
The Committee to Protect Journalists (CPJ) had tagged the Nov. 23, 2009 incident as the deadliest attack against the media.
Through the PTFoMS' hard work, the CPJ has listed the Philippines among the countries with improved status in media killings based on the 2018 Global Impunity Index.
Andanar, co-chair of the PTFoMS, commended Egco and the task force staff for providing a safe media environment in the Philippines.
"Soon, we will have a promulgation and I would attribute this to the hard work of the PTFoMs," Andanar said.
According to the Department of Justice (DOJ), Egco said no less than Unsay Ampatuan asked the court last Nov. 5 to decide on his case.
"After nine years, we can finally say that we can see the light at the end of the tunnel because the Ampatuan massacre case is nearing promulgation," Egco said.
Egco thanked Andanar for being the first presidential media head to attend a wreath-laying ceremony for the massacre victims.
He also commended the PCOO chief for championing the Administrative Order No. 1 signed by President Rodrigo Duterte on Oct. 11, 2016 to form PTFoMS.
"Our mandate based on the A.O. 1 is not only to ensure the swift delivery of justice for those who were killed but also to ensure the safety of those who are still living," Egco said.
Mangudadatu, whose wife, Genalyn, two sisters and several other relatives were among those killed, also took the opportunity to express gratitude to Andanar.
"It was a great thing that my fellow victims feel in their heart and mind that they are not neglected by the government," he said.
The victims were on the way to Sultan Kudarat to accompany Mangudadatu file his COC when their convoy was stopped by gunmen. (PNA)