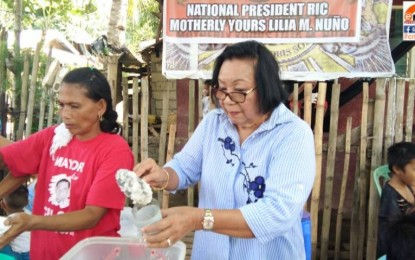 ZAMBOANGA CITY -- The title of Lilia Macrohon-Nuno's weekly radio program, "Motherly Yours," is an appropriate and authentic description of her as an exceptional civic and community leader and benefactress of this city.
As a woman Muslim convert, her genuine leadership is testimony of the liberal type of Islam in the Philippines, in contrast to many countries where majority of Muslim women are relegated to supine roles.
At present, she is the executive vice-president of the national federation of Rural Improvement Club, one of the four major sectors of the Department of Agriculture (DA), as well as its Zamboanga chapter president.
Before that, she was the federation's national president, a two-term city councilor, and one-term congresswoman. Before becoming a politician, she was for some 30 years a personnel and eventually regional manager of the Philippine Charity Sweepstakes Office (PCSO) in Zamboanga region.
The agency's humanitarian and social responsibility programs sharpened her sensitivities to the plight of people in dire need of help. By the time she retired from PCSO in 2006, she had established a reputation as a civic mother for the sick and neglected indigents of the city and archipelagic and peninsular region.
"I just love helping people," Nuno said. "I am now 77 years old, and I have no plan to stop anytime soon my civic and community assistance work and advocacies".
She was first elected as city councilor in 2007, and it was during her incumbency that she launched her radio program to better reach out to her constituents.
In her program, which still runs to this day, she "discusses issues of the day, and conditions and affairs related to basic services."
She walked her talk -- as local and later national legislator -- regularly sponsoring medical missions to poor communities around the city's 98 barangay, with special attention to the many Muslim island villages.
"I easily connect with my Muslim constituents since I speak Sama," she said.
She married into the prominent Nuno clan, whose patriarch was once vice-mayor of the city. Her family provided shelter in Taluksangay to many Sama and Badjao internally-displaced families who were victims of the 2013 Zamboanga Siege.
The evacuee families now have comfortable homes built by government, with basic utilities like electricity and water and education in the village school.
Coastal Barangay Taluksangay, famous for its beautiful mosque, is her clan's ancestral enclave.
In nearby Sitio Gapu, Nuno has a farm where, for years, she has indulged in vegetable farming -- usually experimenting on how to grow successfully.
Sometime during her political stint, she realized that she "can do it, raise vegetables, why don't I teach other women and farmers what I learned?"
That's what she did to eventually create a name for herself in the Rural Improvement Club (RIC) national community.
The RIC caters to women projects aimed at raising their family's welfare. Through RIC, she has been responsible for training hundreds of women to go into organic farming or livelihood projects like food processing, including making sausages, tapas, preserved anchovies, among others.
Now and then, the local RIC has been able to generate seed capital for these women entrepreneurs lent to them on a turn-key basis, she says.
In a far-off rural barangay of the city, she tapped farmers to grow bana grass for an ethynol fuel project in partnership with a foreign party, who failed eventually to put up his investment share.
She has since tapped the expertise of the Philippine Coconut Authority (PCA), and now the farm is making charcoal brickets from the plants -- work and income for the farmers there.
She has also been notable for openly opposing the conversion of agricultural lands into use for industrial and housing projects.
When she was congresswoman from 2013 to 2016, she facilitated many scholarships for local college students. Her own family has been strong in that class of philanthropy, continuing until today.
As she goes around the city these latter days to pursue her advocacies, she is frequently approached by young professionals who tell her they were her scholars.
"That warms my heart, makes me happy", she said.
Only a month ago, she donated a 200-square meter lot to the mixed-culture barangay of Mampang, located in the suburb of the city, for the construction of a new and better day-care center.
"Years ago, I visited the barangay's dilapidated day-care center there, whose Badjao teacher's zeal impressed me," she said.
The teacher grew up as an orphan but managed to go to school, then she raised her four children and sent them to school and now two of them are professionals, she recounts.
The Badjao mom has been running the day care center all these years, out of compassion for Badjao children, she says.
Compassion knows when it meets another compassion, and that in sum has made Nuno into the kind-hearted and hardworking achiever that she is today. (PNA)