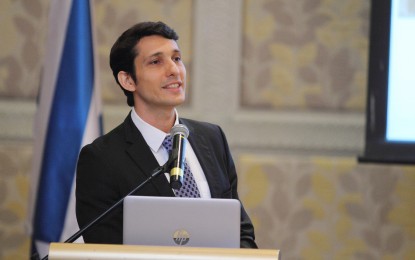 MANILA-- Tel Aviv is ready to shoulder up to 50 percent of the advertising cost of Filipino tour operators who will promote and craft package tours to Israel.
"We don't have specific criteria. The only criteria is you should promote Israel. What we need is package, basically, Israel only, and that you are a travel agency," said Hassan Madah, director of the Israel Ministry of Tourism in India and the Philippines during their second Tourism Roadshow in Manila on Tuesday.
"We can shoulder up to 50 percent depending on what kind of itinerary," he noted.
Hassan said interested companies may get in touch directly with the ministry's office in the Philippines and submit a proposal.
"(There's) no limit. But it's a discussion between us and the company. We will look at the kind of tour they want, and we'll look at the clients they have and who is the partners, then accordingly, we will decide together," he told reporters.
Compared to the overall 23,500 Filipino tourist arrivals in 2017, and the lesser 11,300 visitors in 2015, Hassan said travelers from the Philippines is increasing, with the January to October 2018 figures already reaching 20,700.
This alone translates that Israel is an emerging travel destination for Filipinos, he noted.
"I think we will reach at least 70,000 to 80,000 in a year or two. This year, we target 30,000. If we get Filipino airlines flying also, I think we will have way more even," he said.
Hassan will be meeting with the executives of local carrier Philippine Airlines (PAL) next week to discuss the direct flights from Manila to Israel.
"They are interested already in flying by March next year," he said.
Hassan said Jerusalem remains the main tourist draw for Filipino visitors who want to tour the many shrines that commemorate events in the Holy Bible.
But Israel is keen to tap the lesbian, gay, bisexual, transsexual (LGBT) market in the Philippines to visit Tel Aviv annually.
"We have an LGBT parade in Tel Aviv every first Friday of June every year. I think here in the Philippines you have big LGBT community, we are looking into how to tap this market also," Hassan said. (PNA)