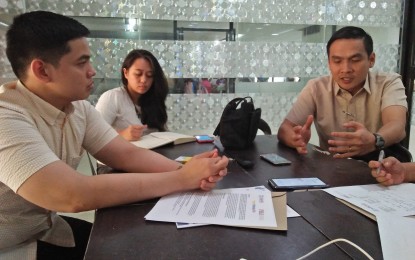 ILOILO CITY -- Some 41,000 out-of-school youths (OSYs) in seven priority areas of the country stand to benefit from the YouthWorks PH, a PHP1.7 billion five-year workforce development project to be undertaken by the Philippine Business for Education (PBEd) and funded by the United States Agency for International Development (USAID).
Pierre Pecson, the program's partnership manager in an interview Wednesday, explained that the main purpose of the project is to "connect schools to employers".
The project promotes technical and vocational education with youth aged 18 to 24 who are not in education, employment or training (NEET) as its focus.
"Not all can afford college degrees because it is too expensive. So, we are opening that route, we are making tech-voc accessible for the youth," he explained.
Pecson cited the 2017 Annual Labor and Employment Status report where almost half of 46.7 percent unemployed sector are aged 15 to 24.
This means that more than one million youths have no work, he said.
Since the project was launched last June, he said that they have been establishing partnerships with technical vocational organizations and private companies with reputable track record for the program.
"The end result would be gainful employment either within the company where the apprenticeship was completed, or we will find a partner company where they can be employed," said Hannibal Camua, the program's policy and advocacy manager.
It comes in two phases, the life skills training and the apprenticeship. In the latter phase, they are expected to get remuneration of 75 percent of the daily minimum wage from the company where they are undergoing training.
The project will be implemented in Cagayan de Oro, Cebu, Zamboanga City, Greater Manila Area, Davao, General Santos City and Iloilo. The sectors to be covered are agriculture, banking and finance, construction, energy, hospitality and tourism and manufacturing.
In Iloilo, some 3,000 OSYs are expected to benefit from the project. On Monday, the team met with offices of the city government that handle various youth programs.
"We will get data from the local government unit for validation," Camua said.
Pecson said that they hoped to launch the project in Iloilo after the 2019 elections or sometime in June 2019. (PNA)