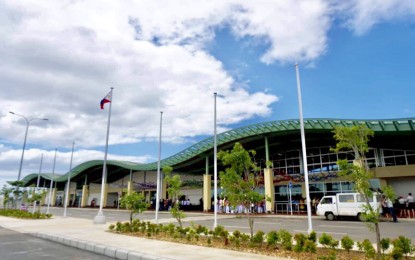 MANILA — AirAsia Philippines will make the newly-opened Bohol-Panglao International Airport as its next hub.
In an exclusive interview with the Philippine News Agency (PNA) on Tuesday, AirAsia Philippines chief executive officer Dexter Comendador said he plans to make the country's first eco-airport as the carrier's fifth hub by 2019.
Currently, AirAsia has a hub in Manila, Clark, Kalibo, and Cebu.
In time for the airport's inauguration on Tuesday, AirAsia sent a proving flight there, and the three pilots in that flight are Boholanos.
"I promised Governor (Edgar) Chatto that the first to maneuver and land the AirAsia aircraft in Panglao Airport is a Boholano," he said.
The proving flight used an Airbus 320, which the carrier got just last month.
Comendador noted that Bohol has a huge potential, and that the provincial government's strategy to market the Panglao Airport as "Bohol" and not just Panglao actually works.
"Because it will be clear for tourists that they are going to see various things -- the Chocolate Hills, the tarsiers, among others, and not just the beaches in Panglao," he explained.
The executive bared that AirAsia will increase flight frequencies in Bohol but emphasized that it would still depend on the tourist arrival capacity.
"There are only about 3,000 rooms in Bohol. We need more facilities, infrastructures, so that more tourists could come in and be accommodated. Of course, what's the point of going (in Bohol) if they have nowhere to stay in," he remarked.
Comendador shared that when AirAsia brought Chinese and Korean tourists there last October during the observance of the Golden Week, they were disappointed because most of the rooms had already been booked.
"We need to catch up in terms of resorts," he said.
Saying he is in constant coordination with Bohol Gov. Edgar Chatto, Comendador said the governor is very responsive to what the industry needs and would build more facilities or rooms in 2019.
"I am very optimistic in this route. Bohol is a very good example of how the government works for the people. The province has experienced an earthquake, but its people were able to rise again," Comendador said.
He reiterated that more investments in hotels and ground transport are needed so that the airline could offer more flights and routes to and from Bohol.
In terms of offering international flights from Panglao, Comendador said that at present, AirAsia Philippines could not do that because there is no fuel depot in the area.
"We need fuel to bring the aircraft to long distances," he explained, adding that the provincial government is currently working to address this concern.
Comendador said AirAsia Philippines might initially offer Macau and Taipei routes from Panglao.
"It's very easy to fly to Macau and Taipei because that would only take about two hours to reach," he said. (PNA)