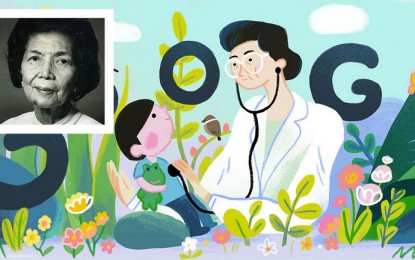 MANILA -- Google featured on Tuesday a Filipino personality who have played a vital role in the history of Philippine pediatrics, Dr. Fe del Mundo.
Del Mundo, fondly called "The Mother of Philippine Pediatrics" celebrated her 107th birthday on Tuesday. Google commemorated it with a doodle art, which showed the lady physician checking on a boy with her stethoscope as they are both surrounded by nature. Perhaps, this image reflects her early campaign in promoting public health with an emphasis on rural mothers and their children.
In 1936, del Mundo became the first Filipina and woman to be admitted at the Harvard Medical School. Harvard didn't recognize del Mundo as a woman and was surprised to find out so.
The head of Harvard's pediatric department at that time allowed her enrollment to stand because of her impressive academic records. Harvard's medical program opened to female students only in 1945 when del Mundo already went back to the country, directing the state-run children's hospital since 1943.
She directed the children's hospital until 1948. Due to the war against the Japanese army, the hospital became a general hospital tending to adults who were hurt and wounded.
To put up her own private hospital for the children, del Mundo sold her house and other properties. The Philippine Children's Medical Center (PCMC) in Quezon City was established in 1957. It was the first pediatric hospital in the country.
In 1958, del Mundo conferred her ownership of the hospital to a board of trustees. While being a board member, she continued her research on infectious diseases.
She has published over a hundred articles, reviews, and reports in medical journals. Her research about dengue has contributed greatly to the understanding of how the disease affects children.
Del Mundo also authored "Textbook of Pediatrics", which was used in medical schools nationwide for many years. Apart from promoting public health especially in far-flung areas, she also helped in facilitating and improving the coordination between hospitals, doctors, and midwives.
Committed to her passion to improve children's health in the country, del Mundo lived on the second floor of PCMC, where she continued to check on the young patients until her death at the age of 99. (PNA)