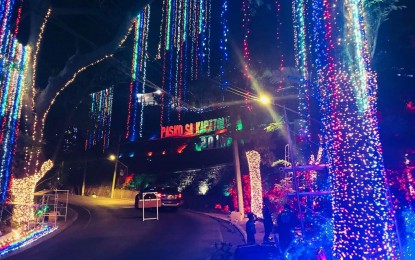 SAN FERNANDO CITY, La Union -- Senior citizens, persons with disabilities (PWDs) and pregnant women can now enjoy their visit to the first-ever Capitol Hill Christmas village as the provincial government provides free shuttle assistance to them.
"For a more joyful experience at the Pasko sa Kapitolyo 2018, the provincial government of La Union offers transport assistance to PWDs, senior citizens and pregnant women going up and down the Capitol Hill," the Provincial Government of La Union said in its official Facebook page.
The pick-up points for the free shuttle are at the La Union Agri-Tourism Pasalubong Center and the Sangguniang Panlalawigan Building (Provincial Capitol) starting at 5:30 p.m.
The Christmas village situated at the Capitol Hill in this city was opened on Nov. 30, wherein the capitol building and its surrounding parks, gardens and roads, were decorated with lights and different Christmas decors.
In his welcome remarks during the opening ceremony, Vice Governor Aureo Augusto Nisce said the Christmas village is a gift from the provincial government of La Union, iterating that the village is for all and none should be excluded.
A fireworks display, parade of Disney mascots, and the introduction of the Pasko sa Kapitolyo 'Chuchu Train' were the highlights in the launching of the Christmas village.
Aside from the dazzling lights on the edifice, gardens and parks at the Capitol, there were also Instagram stations with different themes, such as "Winter Wonderland Station", "Faces of Santa Station", and "Christmas Tree Station".
Joanna Guerrero, provincial information officer-designate, said in previous interviews that Saturdays would be scheduled as "Children's Day".
"Every Saturday, there are variety shows for children with different performers," Guerrero said, adding that food stalls are available, as well as bazaars for food and non-food items.
La Union Governor Francisco Emmanuel Ortega III told his constituents during the lighting ceremony "to not forget the true meaning of Christmas and that is the birth of the Lord Jesus Christ to save the human race from their sins".
"Let us continue to pray for our province and for our family," Ortega said, as he encouraged each one to spread love just as what Christ has done.
The Pasko sa Kapitolyo will be available for everyone to watch until Dec.30 this year. (PNA)