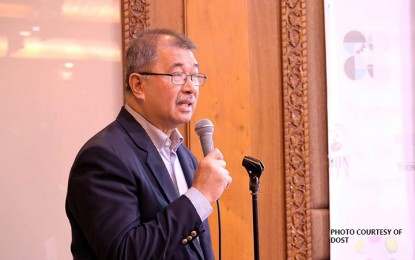 MANILA -- Department of Science and Technology (DOST) Secretary Fortunato Dela Peña is seeking more partnerships with the media to inform the public about the benefits of science and technology.
In an interview with the Philippine News Agency (PNA) on Tuesday afternoon, Dela Peña said one executive had commented that the DOST is only known for the Food Nutrition Research Institute (FNRI), Phivolcs (Philippine Institute of Volcanology and Seismology) and PAGASA (Philippine Atmospheric, Geophysical and Astronomical Services Administration).
"These (attached agencies) are visible due to disasters, and their programs that benefit the people," Dela Peña noted.
He said the most common DOST program that the public knows is its scholarship program but awareness about it, however, is still low.
"We can work hard (to address this)," the DOST chief admitted, saying the DOST's partnership with the National Press Club (NPC), Publishers Association of the Philippines, Inc. (PAPI), the Presidential Communications Operations Office (PCOO), and other government agencies, is a good example on how the DOST deals with the low public awareness of its programs.
Recently, he was able to watch a DOST show, where a taxonomist at the National Museum is being interviewed.
"How would the public know that there is a taxonomist at the National Museum? How would they know taxonomy's benefits and how important it is? We need our partners to share these things with the public," Dela Peña stressed, lamenting further that public officials, both at the national and local levels, are sometimes not aware of the important benefits of research in their areas.
"Also, there are many kids, who would like to become chefs because that is what they see on television. Only a few would say they would like to become a scientist or an engineer," he said. "So, we need partners to help us inform the public about the benefits of science and technology, and about our programs." (PNA)