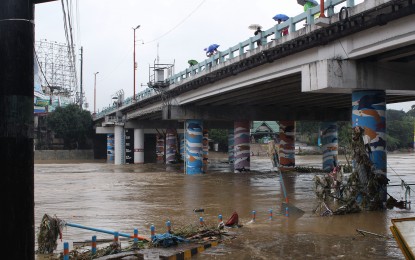 MANILA -- An expert sees the need for a legislation mandating local government units (LGUs) to create councils that would manage rivers.
"Rivers are sources of water for various uses, provide food, serve as transportation routes and are sites for tourism and research so these waterways must be sustainably managed," River Basin Control Office (RBCO) Exec. Dir. Antonio Daño said Thursday (Dec. 6) on the sidelines of a planning workshop in Quezon City.
Creating councils focused on managing rivers would help better address pollution, congestion and other problems plaguing these waterways, he noted.
Daño said the onslaught of super typhoons and other extreme weather events due to climate change, as well as threats of landslides and other natural hazards, raise the need for an effective management of rivers as downpours may cause heavily silted rivers to overflow faster and flood surrounding areas. Landslides can send soil and rocks falling into heavily silted rivers, further reducing these waterways' water-carrying capacity and drainage.
Daño expressed hope that legislators would pass in the next Congress a bill mandating the creation of river councils.
"Councils of LGUs along a river can explore management strategies these bodies can collaborate on to protect and save this waterway," he said, adding that collaboration is important since conditions in a river's upstream portion differ from downstream.
"There's generally more pollution and chaos in rivers' downstream portions as these are where most communities and economic activities are," he said.
Daño said LGUs must address problems plaguing rivers.
"LGUs have that mandate under the Local Government Code," he said. Republic Act 9003 (Ecological Solid Waste Management Act of 2000) also designates LGUs as frontliners in implementing solid waste management in respective areas of jurisdiction, he said.
He said several LGUs in Iloilo province already created respective river councils.
"Those LGUs set the pace in managing rivers," he said.
In 2013, then-Bulacan Fourth District Rep. Linabelle Ruth Villarica filed HB 51, which sought the establishment of a comprehensive river administration system for flood control, water use and environmental conservation.
It also provided for the creation of a multi-agency national river council (NRC) that would provide strategic proposals on river resource management, as well as provincial river councils empowered to coordinate, supervise and monitor river administration activities in class B rivers.
Class B rivers are waterways designated by provincial governors concerned and which belong to water systems other than those NRC designated, said HB 51.
During the 15th Congress, Sen. Loren Legarda filed SB 3105 (proposed Philippine River Basin System Administration Act of 2012), which included the creation of national and provincial river councils. (PNA)