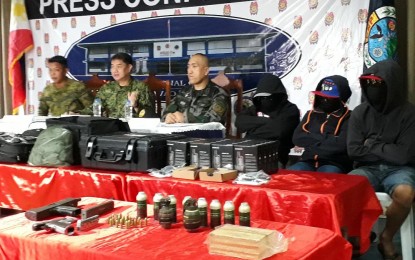 DAVAO CITY -- A family of three, who are members of the New People's Army (NPA), have surrendered to the Davao police and handed over firearms and ammunitions marked "Government Arsenal" issued to the Armed Forces of the Philippines (AFP).
The surrenderers -- identified only as Olegario, 52, his wife Lucena, 49, and son Jesriel, 27, all of Sitio Banarao, Barangay Talandang, Tugbok District, this city -- were presented in a press conference at the Police Regional Office 11 (Davao region), Camp Sgt. Quintin Merecido in Buhangin here Friday. Their full names were withheld for security reasons.
PRO-11 Director, Chief Supt. Marcelo Morales, said all three were active members of the NPA under Pulang Bagani Command 1 operating in the boundaries of Davao City, Bukidnon, and Davao del Norte.
Morales said the family will undergo further debriefing for other vital information, especially on their involvement in NPA activities in Davao.
Davao City Police Chief, Senior Supt. Alexander Tagum, said the couple used to be land tenants but left after the landowner accused them of qualified theft and filed a case against them.
They became members of the Kilusang Magbubukid ng Pilipinas and eventually joined the NPA in 2015 after the communist movement promised to help them with their case.
Tagum confirmed the couple's pending case for qualified theft. However, he said, someone has already committed to raise the money for their bail.
During the initial interview, the couple's son, Jesriel, admitted he was one of those who burned the Lapanday box plant last year. Lapanday lost billions of pesos in that incident.
According to Tagum, the information from the three surrenderers would be vital to the campaign against the NPA. He said Jesriel also has information on the 14 NPA members, who were the subject of a police operation in Langub, Maa sometime in September, and in Victorio's Beach last month. Twelve of them are still at large.
The family's house was reportedly an NPA rendezvous and firearms repository.
Government arsenal
During their surrender, the family handed over firearms and ammunitions bearing lot number issued by the defense department to the AFP.
The surrendered firearms and ammunitions consisted of a homemade Ingram Sub Machine Gun with more or less 50 rounds of live ammo; a 9-mm. pistol with live ammo; eight pieces of M203 live ammo; and two fragmentation grenades.
The ammunitions, which bear government markings and lot number, will now be the subject of an investigation by a task force, which Morales said he would create to trace the ammo's source and how they landed in the hands of the NPA.
He said he would invite a military judge advocate so that the investigation would be fair. (PNA)