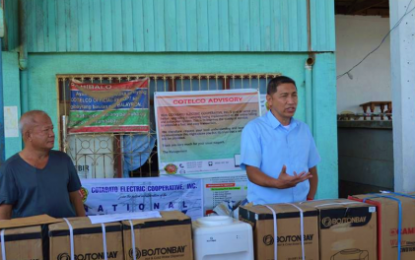 KIDAPAWAN CITY – Potable drinking water is set to reach some 22,000 students in 22 public schools in the upland town of Arakan, North Cotabato, following the distribution of water dispensers by a local power cooperative Friday.
General manager of the (North) Cotabato Electric Cooperative (Cotelco), Godofredo Homez, and chair of the Cotelco Board of Directors Armando Pedregoza, led the distribution of the water dispensers to the schools as part of the cooperative's corporate social responsibility program.
The recipient of the dispersal of water dispenser are pupils under the West and North District of Arakan. The turnover rites were held at the village hall of Barangay Poblacion, Arakan.
"The project was initiated to ensure safe and potable water to pupils and avoid ailments due to virus and bacteria," Homez told town education officials during the turnover ceremony.
Dr. Lucy Gulmatico, principal-in-charge of West District in Arakan, expressed her heartfelt gratitude after receiving the water dispensers.
"Our children must enjoy a healthy environment through adequate resources, as well as suitable homes with electricity to live in," Gulmatico said in an interview with local reporters. (PNA)