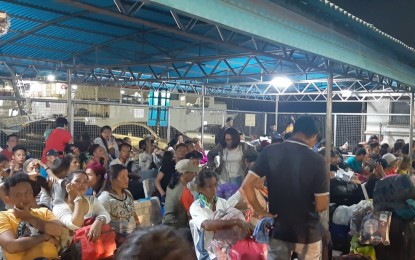 CEBU CITY – More than 800 passengers were stranded after the Philippine Coast Guard (PCG) – Visayas station suspended Thursday the voyages of all vessels as Tropical Depression Usman is expected to hit certain areas in the country.
PCG-Central Visayas spokesperson, Lieutenant Junior Grade Michael Encina told the Philippine News Agency that as of 4 p.m. Thursday, 603 passengers were stranded in the domestic pier in this city, and 200 in Bohol.
Encina said the PCG station in this city did not permit 20 passenger vessels to sail under bad weather.
In Cebu port, Encina said, 54 cargo vessels were also ordered to anchor, and another seven in Bohol.
Around 19 vessels were supposed to sail out of the Visayan waters but took shelter upon receiving weather advisory from PCG.
Encina said their office also advised motorboats and sea vessels with three gross tonnage not to sail while Tropical Depression Usman is yet to landfall in Surigao anytime Friday.
"Actually, the whole of coast guard in the Visayas, particularly our AOR (areas of jurisdiction) Cebu and Bohol, is on heightened alert in line with our 'Oplan Pasko' (which will) last until New Year," Encina told the PNA.
He, however, said due to Tropical Depression Usman, they need to be "ready at any given moment."
The PCG spokesperson said they are exercising maritime security in Cebu's domestic ports by utilizing the whole of nation approach.
"Nandito po kami lahat sir. Yung PNP Maritime, AFP, PDEA (We are all here, sir. The Philippine National Police Maritime, Armed Forces of the Philippines, and the Philippine Drug Enforcement Agency) just to ensure safety and security in all of our ports," Encina said.
The Philippine Atmospheric, Geophysical and Astronomical Services Administration (PAGASA) reported that as of 4 p.m. Thursday, "Usman" was located 410 kilometers of Guiuan, Eastern Samar, with maximum winds of 55 kilometers per hour, and gusts of 65 kph. It is moving towards west at 10 kph.
PAGASA said the tropical depression is expected to develop into a tropical storm by Friday afternoon. (PNA)