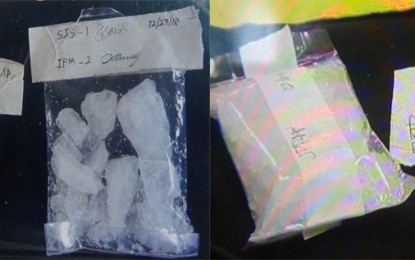 ZAMBOANGA CITY -- Government operatives have arrested two suspected big- time dealers and seized some PHP457,000 worth of illegal drugs in separate anti-drug operations in this southern port city, a police official said Friday.
Chief Insp. Ramon Bautista, Police Station 8 chief, identified the arrested suspects as Gaber Najan, 57, and Sirilin Hadjiula alias Inda, 50, residents of Barangays Upper Calarian and Baliwasan, respectively.
Bautista said Najan was arrested in a buy-bust operation by the Station Drug Enforcement Unit (SDEU) around 10:10 a.m. Thursday in Acacia Drive, Upper Calarian, this city.
Confiscated from Najan's possession were PHP117,000 worth of suspected shabu packed in two large-sized plastic sachets and PHP500 marked money.
Bautista said Hadjiula was arrested in another buy-bust operation around 3:40 p.m. on the same day along Mayor Climaco Avenue, Barangay Zone 4, this city.
He said the arrest came after Najan confided to the SDEU personnel that Hadjiula, a former Overseas Filipino Worker (OFW), is her supplier of illegal drugs.
He said seized from Hajiula were PHP340,000 worth of suspected shabu packed in one large size plastic sachet and PHP500 marked money.
He said the two suspects were detained at the Police Station 8 headquarters pending the filing of charges against them.
He also said investigation continues to determine the extent of illegal drug operations of the two arrested suspects. (PNA)