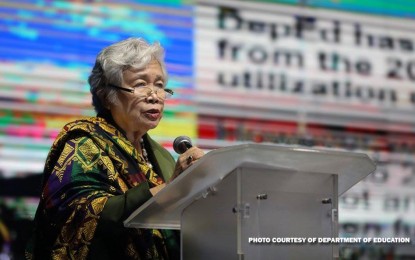 MANILA -- Despite many challenges, the two-year implementation of Senior High School (SHS) in the country has exceeded the expectations of the Department of Education (DepEd).
DepEd reported that the proportion of Grade 10 completers, who proceeded to Grade 11 is 93 percent, which is higher compared with the transition rate of 4th-year high school graduates to college. The transition rate consistently went below 50 percent from 2016 to 2018.
"Also, it seemed that the SHS program has encouraged those who dropped out to return to school. Perhaps, there was a realization that someone who finishes senior high school would have better chances of entering the university, college, and better chances of finding a job," Education Secretary Leonor Briones said.
Since SHS implementation became an unexpected additional expense to the first batch of Grade 11 students, the DepEd provided either free or highly subsidized SHS education to some 2,733,460 learners in public and private schools and supplemented the free public-school system with financial subsidies amounting to a total of PHP21.57 billion for the school year 2017-2018.
While SHS provides an opportunity for completers to get employed after graduation through the Technical-Vocational track, only 38 percent of the 1.2 million SHS learners took the track and decided to seek employment after graduation.
Briones said the "overwhelming" result of the program was brought about by the "firm support of President Rodrigo Duterte, the Cabinet, and the stakeholders".
SHS graduates are competent
Briones said SHS or K-to-12 program graduates are competent and ready to land jobs after graduation, especially those especially those who took the tech-voc track and had on-the-job (OJT) training in business, manufacturing, and commercial industries.
The OJT or work immersion is part of the graduation requirements for all SHS students. Its aim is to provide them the skills they will need as they become part of the labor force.
While the training does not guarantee sure jobs after graduation, it would give the graduates better chances to be employed right away.
"We must understand that the economy is growing, and the demands of the industries are also increasing, so the tendency for them is to take in high school students, who have undergone training," Briones said.
DepEd reported that 28 percent of the graduates belonging to technical vocational strand were hired immediately due to the "work immersion or on the job training" requirement in SHS.
SHS improves quality of education
Amid some reports that SHS implementation is a failure, as most of its graduates did not land jobs after graduation due to skills-jobs mismatch, DepEd clarified that improvement of education quality in the country is the primary goal of the program and not solely immediate provision of employment to its graduates.
"It is because your assumption is every single senior high school student will have a job, which is not correct because 61 percent or 700,000 to 800,000 of our graduates plan to continue on to college," Briones said.
She stressed that SHS students are given better options and opportunities to improve their education and quality of life.
"To those who will go to college, the chances are all up to their hard work, since tuition is already free in state colleges and local universities," she said.
In April, some 1.252 million learners graduated from SHS. For the school year 2018-2019, DepEd welcomed some 2.813 million grade 11 and grade 12 learners, based on their projected data.
DepEd said the third year of SHS implementation is already in a good position in terms of the required infrastructures, materials, and teacher training.
However, the department noted it still needs to strengthen its collaboration with the community and private sector to improve on the alignment of education with the companies' employment requirements. (PNA)