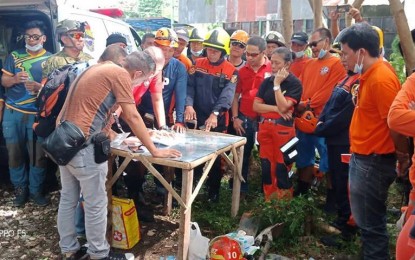 DUMAGUETE CITY – The Mines and Geosciences Bureau (MGB) has confirmed that the supposed treasure hunting activity that led to a disaster in Boloc-boloc, Sibulan town in Negros Oriental, was illegal in the absence of permits from the National Museum of the Philippines.
The regional office of the Department of Environment and Natural Resources in Region 7 (DENR-7) earlier sent two personnel from MGB to investigate the alleged treasure hunting.
Engineers Edward Malahay and Ramsey Brillante of MGB-7 said apart from the absence of permits from the National Museum of the Philippines, there was also no Environmental Compliance Certificate (ECC) to support the digging.
The tunnel collapsed on Wednesday, January 2, burying three "treasure hunters". A fourth person survived the tragedy.
Those missing were identified as Feliciano Encilay, Sr., 62, an employee of the Provincial Veterinary Office who is due for retirement and a resident of Cervantes Street in Dumaguete City; Algie Javier, 29, a former Overseas Filipino Worker (OFW) who reportedly owns a gold detector used in the alleged treasure hunt and a resident of Barangay Isugan in nearby Bacong town; and a certain Bobby Baldado of Palinpinon from the adjacent municipality of Valencia. The survivor was identified as Mauro Alforque, 44, a resident of Aldea Homes here.
As of Thursday, retrieval operations were ongoing for the three.
Malahay said the four men were not only digging/excavating a vertical "deep well" as they initially claimed but they were also digging forward horizontally, thus endangering the lives of motorists above ground because the tunnel cut across the road above it.
Malahay said mining and treasure hunting are two different things-- mining is processing minerals that can be recovered from the soil while hunting is searching for hidden treasures.
"History will tell us that when the Japanese Army was withdrawing to the hinterlands of Negros Oriental, they had no more time to dig as deep as 50 feet under to hide their treasures," he said.
The possibility is that these supposed treasures were buried in shallow grounds, he noted.
Both Malahay and Brillante joined the rescuers in the retrieval operations that continue as of this writing.
Meanwhile, Councilor Jon Rey Abada of Sibulan disclosed that as far as the local government unit is concerned, they had no idea regarding the legality of the said activity because permit for activities of this nature is secured from the national government.
Also, the area where the digging was done was "surrounded by trapal ug mano mano ra pod ang pagkalot (surrounded by canvas while digging was done manually) supposedly just for a deep well," he said.
No one would have noticed anything unusual going on in the area as it just seemed normal that people were digging for a deep well, he added, noting that the site was in between two houses. (PNA)