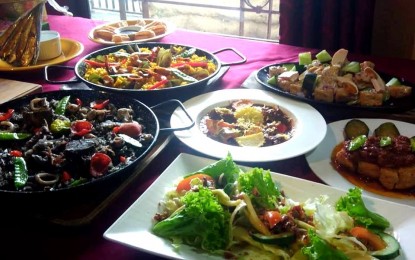 KAWIT, Cavite – Cavite is gradually boosting the food and beverage industry on top of its manufacturing hub, leveraging its "most populous" status to high consumption in retail services as among the top drivers of the province's economy.
Given this direction, the Provincial Tourism and Cultural Affairs Office (PTCAO) steps in to help promote not just Cavite's rich historical past, but its various gastronomical treasures, on what makes Cavite unique in the palate of the food-loving public, PTCAO officer-in-charge Rozelle Sangalang said on Thursday.
To position the province as the emerging food destination in southern Luzon, PTCAO embarked into a series of activities "to revolutionize traditional Cavite dishes and delicacies," through its "A Taste of Cavite: An appreciation of Cavite's Old Cuisines".
The undertaking aims to make professional chefs, and culinary teachers, including students, aware, appreciate and come up with innovative approaches on how to promote, showcase Cavite's cultural history of local cuisines "but without losing its authenticity," Sangalang quipped.
These activities include workshops and cooking demonstrations with Razor Philippines Executive Chef and "Punong Heneral" of Cavite's Culinary Generals, Chef Christopher G. Carangian, and culminate to a "culinary tour" to showcase some of Cavite's famous cuisines and dishes.
The tour had its initial run on December 14 which showcased famous, heirloom cuisines in the municipalities of Kawit, Tanza and Amadeo, as well as in the cities of Imus and Tagaytay.
Aside from satisfying one's palate, the tour offers snippets of history and traditions and reflects some traits of the towns and its people with the way they prepare and share their famous dishes.
The first stop, where the province's greatness is rooted from, is the historic Kawit town.
Chef Michelle Ortega taught the participants not just how to cook this favorite dish of General Aguinaldo but highlights what makes it unique with other Cavite town's versions.
Kawit's "adobong dilaw" uses turmeric "because of its therapeutic features' unlike the "achiote" or Annato seeds -- an orange-red condiment and food coloring used not just to impart a yellow or orange color to foods, but sometimes also for its flavor and aroma used by the other Cavite towns.
A buffet of toclongganisa from Imus City's Toclong 1st Multi-Purpose Cooperative came next where preparations using old recipe, passed on from generation to generation, were featured.
Imus City's longganisa uses no vinegar, but garlic and poses similarity, although more intensely flavored than the Hungarian sausage.
Lunch was at Casa Real in Tanza town where guests partake of the Spanish-Filipino cuisine.
This location was chosen as they served Caviteño cuisines where ingredients are sourced from what is available in the locality.
Appetizer is dried pusit (squid) with tamarind sauce and "patis tanza" (as Tanza is coastal town, their patis or salty sauce version is made of alamang or shrimp and not fish) and they use available and local products.
For the main courses, owners of this nearly century-old house prepared "kalandrakas" -- a mix of vegetables, whatever is available in the surroundings like legumes, sweet potato, the "heart" or the flower bud of banana mixed with noodles.
The dish earned its name from the old tradition where money is not the help, contribution you give to the dead, but whatever you harvest.
The other food choices include "kaldereta," an heirloom recipe which forms part of the establishment's Spanish specialties.
Its large cut was due to the absence of refrigerators in the past, where all ingredients are cooked at the same time and share the remaining pieces with the neighbors.
There is also crunchy pork "binagoongan" (pork laced with shrimp paste); tokwa (soya bean) "sisig" (Filipino dish made of minced pork, chopped onions and chicken liver) for the health conscious, Paella (which uses squid, due to the coastal features of Tanza) and lemon ginger mint as refreshment.
A tour of Cavite is not complete without the visiting Amadeo town, the coffee capital of the Philippines and famous for its Pahimis festival.
The last stop is at Amira's in Tagaytay City famous for its "buko" (fleshy coconut) pie.
The PTCAO is set to engage more stakeholders for events like this, to ensure that the traditional cuisines are promoted, preserved, yet adaptive to the changing palate of food lovers.
Cavite, located in the Southern shores of Manila bay, abounds not just with historic sites and landmarks - being home to a number of Filipino heroes; but offers a wide range of food specialties to satisfy one's taste buds. (PNA)