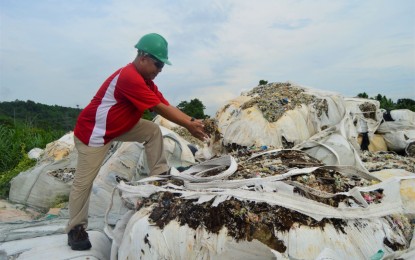 MANILA -- The re-export of the 51 containers of South Korean garbage sitting at the Mindanao International Container Terminal (MICT) in Tagoloan, Misamis Oriental will take place on Sunday, and not Wednesday as previously announced.
The EcoWaste Coalition made the clarification after receiving an update via text from MICT Port Collector John Simon.
Simon told Aileen Lucero, national coordinator of the EcoWaste Coalition, that the schedule for re-export has to be adjusted because the vessel that will bring the garbage back to South Korea will only arrive in Cagayan de Oro City on January 12.
"The arrival of the vessel (Maersk Shipping Lines) will be on the 12th of January (Saturday) and the loading of the cargo will begin immediately on the same day," Simon said.
The ceremonial closing and loading of the last container, according to Simon, will be at 9 a.m. on January 13.
"The slight delay should not dampen our nation's jubilation over the looming departure of the containerized South Korean garbage shipments to Pyeongtaek City where these came from," Lucero said.
"After the 51 containers are gone, concerned parties could concentrate on the re-bagging and eventual re-export of the bulk wastes dumped at the consignee's premises inside a government-managed industrial park in Tagoloan. We expect the highest cooperation of the consignee, the Korean government, and our national and local government agencies to make this happen," she said.
The bulk Korean garbage shipments have been at the compound of Verde Soko Philippines Industrial Corp., the consignee, located at the Phividec Industrial Estate in Barangay Sta. Cruz in Tagoloan.
A shipload of 5,176.91 metric tons of misdeclared "plastic synthetic flakes" exported by Green Soko Co. Ltd. and consigned to Verde Soko arrived at the MICT in July 2018 without prior import clearance from the Department of Environment and Natural Resources.
Verde Soko also facilitated the import of additional 51 containers of "plastic synthetic flakes", which arrived at the MICT in October 2018.
"The removal of all the 6,500 tons of illegal mixed waste cargoes from South Korea should send a clear signal to rich countries, including Canada, that has yet to take back their reeking trash from our land, that the Philippines is not a dumping ground for their garbage. This should also prompt our policy makers into quickly banning the importation of plastic wastes and other foreign wastes to protect public health and the environment, like what China has done," Lucero added. (Ecowaste Coalition PR)