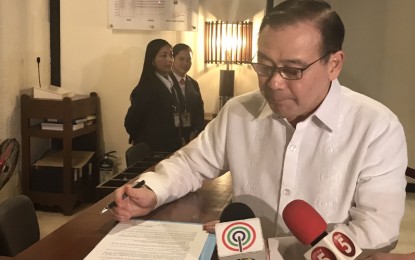 MANILA -- Foreign Affairs Secretary Teodoro Locsin Jr. on Tuesday signed a department order (DO) removing birth certificate as a requirement in renewing passports.
Locsin, in his Twitter account posted a copy of the order, which according to Foreign Affairs Assistant Secretary Elmer Cato, was signed around 5:30 p.m.
With the department order, holders of old passports need not to present a copy of their birth certificates.
"Old passport is more than sufficient," Locsin said.
According to Section 2 of the newly signed Department Order 03-2019, the following cases are excluded in the directive's coverage:
a) First-time passport applications;
b) Renewal applications for lost and mutilated passports;
c) Renewal applications requiring changes in passport entries;
d) Renewal applications of old brown and green passports bearing no complete middle name; and
e) Applicants included in the DFA's watch list.
In an interview, Locsin appealed for the public's understanding as the agency tries to swiftly resolve issues in the processing of Philippine passport.
"I know there are many obstacles to getting fast passports. I know all over the world passports are swiftly given, renewals are automatic. No other requirements are imposed. But give us time to get things done," he said as he was signing the order in the presence of the media. (PNA)