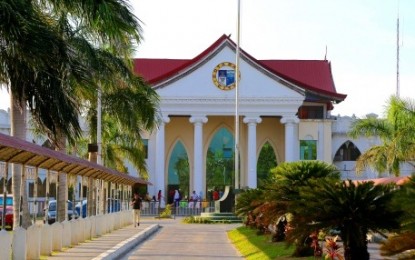 COTABATO CITY – Mayor Cynthia Guiani-Sayadi is set to file a protest before the Commission on Elections (Comelec) in connection with the conduct of the Jan. 21 Bangsamoro Organic Law (BOL) plebiscite in the city, which according to her was marred by violence, threats, and intimidation.
"The massive disenfranchisement of Cotabato City voters also added to the confusion, which led to many of them deciding to go home dismayed after failing to vote," she told newsmen here in a hastily-called press conference Wednesday at the city hall.
At least three grenade explosions, two during the eve of the plebiscite at the house of a Maguindanao trial court judge, and another deactivated by military bomb disposal experts at the gate of a public school serving as a polling center some two hours before it opens were also heard across the city.
Due to such incidents, Sayadi said she is filing a protest before the Comelec to the point of also asking Comelec Chairman Sheriff Abas to inhibit himself "because of his relationship with the Moro Islamic Liberation Front (MILF)."
"As far as I know, he (Abas) is a nephew of one of the top MILF leaders," the mayor said.
She added that long before the conduct of the plebiscite, she has been complaining of possible abuses by the MILF, including those posted in social media.
"It happened last Monday, it will happen again in the future," Sayadi said of the harassment, stressing that the presence of MILF fighters, though unarmed, in polling centers scared the majority of voters.
Final unofficial results of Monday's plebiscite where the voters were asked if they wish to join the expanded autonomous region showed "yes" getting 36,682 votes while 24,994 voted against it.
Cotabato City has 113,751 registered voters but due to harassment and threats, only about 55 percent actually voted, Sayadi said.
Many voters, according to her, opted not to vote out of fear. Sayadi, prior to the referendum, has declared that vote-buying started.
"On voting day, flying voters were rampant," she said.
The mayor claimed she has ample pieces of evidence and witnesses about massive vote-buying and intimidation by MILF towards anti-BOL residents.
Sayadi said she will contest the results even before the Supreme Court.
She also suggested another plebiscite in Cotabato City on February 6 simultaneous with the political exercises about the BOL in Lanao del Norte and North Cotabato.
"I would file the protest before Feb. 6 requesting for another plebiscite in Cotabato City without the presence of the MILF this time," the mayor said.
For his part, Mohagher Iqbal, MILF peace panel chair, has vehemently denied allegations of massive vote-buying, intimidation or harassment against the voters during the plebiscite.
"We have no capacity or funds to buy votes, there was no intimidation or harassment," Iqbal said in a local radio interview. (PNA)