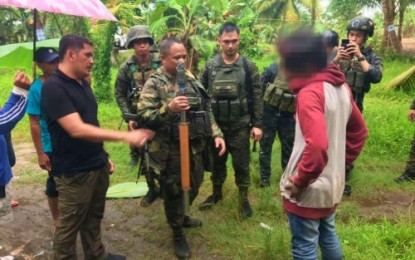 CAMP SIONGCO, Maguindanao -- A 15-year-old member of the Islamic State-inspired Bangsamoro Islamic Freedom Fighters (BIFF) yielded to authorities after being "enlightened" about the government's program on rebels returning to the folds of the law.
The minor, identified only as "Tigre", remained hiding in the past two weeks despite the surrender of his relatives after years of eluding security forces who were sent to arrest them.
He said that the "lights coming from the solar lamp posts" convinced him to follow the path towards peace. The minor laid down his weapon late afternoon on Saturday.
"Bearing solar-powered flashlights and lamp posts, soldiers came to the village of my relatives to help them. I realized that they were not interested in killing us all," Tigre said in Maguindanaon dialect.
The surrender of Tigre happened an hour after soldiers of the Army's 33rd Infantry Battalion installed solar lights in Pedtad village, a fishing village near the Liguasan Marsh.
Lt. Col. Harold Cabunoc, commander of the 33rd Infantry Battalion, personally received the rocket-propelled grenade launcher that was handed over by Tigre in Makainis village of Gen. Salipada K. Pendatun town in Maguindanao.
"You have made the right decision in laying down your weapon. There is no more reason to fight after the overwhelming victory of the Bangsamoro Organic Law 'yes' vote," Cabunoc told the child-warrior shortly after his surrender.
Tigre belonged to the BIFF faction of Commander Mayo Gantong Bansil, whose group had been involved in atrocities against government troops in the area for the past five years.
"The influx of surrenderers reflect the high level of trust that we gained in Central Mindanao. With popular support, we will always prevail against any adversary," Cabunoc said.
Major Gen. Cirilito Sobejana, the Army's 6th Infantry Division commander, has directed subordinate commanders to sustain the gains on the ground.
"We must endeavor to reduce the armed groups through negotiations and focused military operations. This is our platform in turning the Liguasan Marsh from 'terrorism to tourism' and from a 'battlefield to an oilfield' area," Sobejana said.
The 33rd IB has facilitated the surrender of 37 BIFF members, 205 communist rebels and sympathizers, and 41 drug syndicate members over the past two years. (PNA)