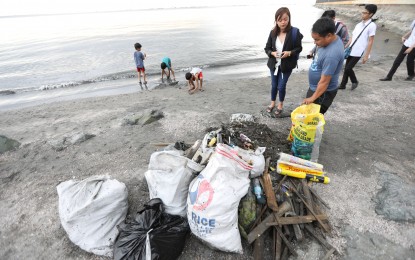 MANILA -- Last January 27, thousands of volunteers trooped to Manila Bay to help clear out the trash that for years sullied its natural beauty.
Days after the initial cleanup, however, who gets to keep its tidiness, knowing that most Filipinos are riddled with the ningas kugon attitude?
As the cleanup drive uncovered the bay's almost forgotten sight, migratory birds have begun to flock by the rocky partition and people have been drawn nearer to catch a better view.
Still, it needs a lot of work to be totally cleansed from below the surface.
Thankfully, a few men had the initiative to scrape plastic trash from the sand and the murky waters. Christopher Ballejos Abria, 45, was the first one seen collecting garbage a day after the massive cleanup.
"Hindi kasi ako nakapunta noong Sunday, ngayon na lang po ako. May maitutulong pa naman ako eh (I missed the group effort on Sunday so I am making up for it right now. Besides, there's still a lot of work to do here)," the slender man said.
Abria travels every day from a small space where he sleeps at the Quezon City Memorial Circle to continue helping clean up the bay.
In the next few days, two others joined him.
In the next few days, two others joined him.
Nelson Delgado, 41, goes straight to the bay after his duty as a night guard in Malate ends. He keeps his phone in a cellophane bag so it won't get soaked when he goes underwater.
Delgado used to work in Riyadh, Saudi Arabia but he returned to the Philippines after his contract expired. While waiting to hear from his agency, he spends his free time at the bay.
For him, the joy of helping to save the environment is bigger than the mockery he gets from people who say he would get nothing out of it but filth and foul odor.
"Yung dumi naman po, nahuhugasan yan at nawawala. Yung kakaibang saya na nakukuha sa pagkakawanggawa, forever ko na po yung ite-treasure (We can wash off the dirt and the smell, but this little charity I do, I will treasure it forever)," he said.
Jonathan dela Cruz, meanwhile, drives his motorcycle from Makati City to reach the bay when his day job is done.
"Habang may free time pa po ako ngayon, dito ko na lang ibubuhos. Nakakatuwa kasi, malinis na talaga sya, nakikita ko (While I have free time, I might as well spend it cleaning the bay. I feel glad seeing it has really been tidied up)," the 41-year-old said, sharing that he has a lot of fond memories of the bay as a child.
Manila Bay is the portal to the city of Manila and has been a mute witness to centuries of war and peace, as well as Manila's transformation into a modern city that has preserved its Hispanic past. While it has been famous for the majestic view of the sun setting on the bay's horizon, Manila Bay has somehow been neglected until it turned into a dumpster for waste ejected by both informal settlers and nearby business establishments.
Efforts to rehabilitate the bay had been done before, cleanup drive after cleanup drive, but only recently has significant change been observed.
Thousands of volunteers joined the January 27 drive, dubbed as the "Save Manila Bay" project spearheaded by the Department of Environment and Natural Resources.
For people who feel the spirit of volunteerism, now would be a good time to join the cause to save the bay.
The Metropolitan Manila Development Authority provides cleaning and protective gears for people who want to help keep Manila Bay clean, although volunteers can also bring their own.
Volunteers may call MMDA at 882-0870 or 882-2631 or may simply visit the Baywalk along Roxas Blvd. and be part of its rehabilitation. (PNA)