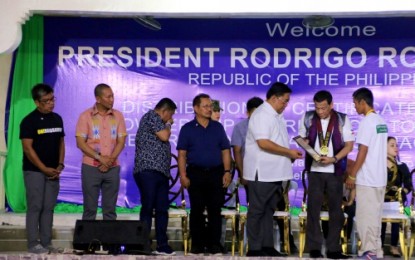 BULUAN, Maguindanao — Hundreds of agrarian reform beneficiaries (ARBs) from this province were elated as President Rodrigo R. Duterte awarded them on Monday with lands that they can call their own.
"'Di n'yo po alam kung paano niyo po kami pinasaya dahil sa lupang binigay ninyo sa amin, mahal na Pangulo (We would just like you know how happy we are with the land that you have awarded us, our beloved President), a teary-eyed Wilson Baleña, an agrarian reform beneficiary (ARB) from Upi town of this province, told a huge crowd at the town gymnasium here where Duterte was guest of honor.
"Kami po ay pamilya ng magsasaka ngunit ni minsan ay di pa kami nagkalupa. Ngayon lang po, Mr. President (We are a family of farmers but not once did we own any land. Only now, Mr. President)" Baleña said to the delight and applause of other land beneficiaries.
Baleña was tasked to speak on behalf of 780 ARBs who all received their Certificate of Land Ownership Award (CLOA) from the President in a symbolic ceremony held here as the province celebrates its 3rd Inaul Festival from February 7 to 14.
The event showcases "Inaul", a colorful woven tube skirt that originated from Maguindanao.
It aims to showcase the various designs of the handwoven cloth and attract tourists from various parts on sending a message that the province is safe to visit anytime.
As part of the celebration, Duterte made way to visit the province where he also unveiled a marker for Maguindanao's PHP198-million new capitol building and led the awarding ceremony for the agrarian reform beneficiaries.
In 2014, the provincial council passed a resolution recognizing this town as the new executive provincial capital.
Maguindanao, which forms part of the Autonomous Region in Muslim Mindanao (ARMM), will soon join the Bangsamoro Autonomous Region in Muslim Mindanao (BARMM) after voting a resounding "yes" to the recently-concluded plebiscite for the ratification of the Bangsamoro Organic Law, a measure providing for the establishment of the expanded BARMM.
"Kunin niyo ang inyo, cultivate it. Hintayin mo lang ang panahon na 'pag nagkulang na ang pagkain because of the climate change, wala nang tutubo doon sa iba, tayo naman 'yung may lupa at tayo naman 'yung mag-presyo (Get what is yours (land), cultivate it. Wait for the time that when there would be shortage of food due to climate change, nothing will grow on their lands, then we will be the one now stating prices)," the President told the beneficiaries referring to oil-rich neighboring countries dictating world oil prices that cause erratic changes in prices of basic commodities, including here in the country.
The President added that he even instructed Department of Agrarian Reform (DAR) Secretary John Castriciones to distribute as many lands as he could in the remaining three years or so of the Duterte administration.
"Sabi ko kay Castriciones, ibigay mo lahat yan sa panahon ko para mabawasan (I told Castriciones to give all that land during my term to reduce (the unmoved government lands)," Duterte said.
DAR-ARMM Secretary Dayang Carlsum Sangkula-Jumaide said a total of 834 CLOAs covering 1,740.3 hectares (ha) in 17 municipalities of Maguindanao has been distributed to the ARBs.
The farm lots include 453.3 ha in Buluan, 396.1 ha in Kabuntalan, 175.6 ha in Datu Abdullah Sangki, 179.4 ha in Datu Saudi Ampatuan, 174.8 ha in Datu Paglas, 88.9 ha in Mamasapano, 48.9 ha in Mangudadatu, 47.6 ha in Sultan Kudarat, 33 ha in Datu Anggal Midtimbang, 23.5 ha in Upi, 23.1 ha in Rajah Buayan, 19 ha in Datu Odin Sinsuat, 17.9 ha in Sultan sa Barongis, 17.6 ha in Ampatuan, 15.7 ha in Guindulungan, 11.6 ha in Talayan, and 10.1 ha in Talitay.
She noted that some ARBs received multiple titles but not exceeding three hectares for those farms acquired under voluntary offer to sell and five hectares under the Operation Land Transfer. (PNA)