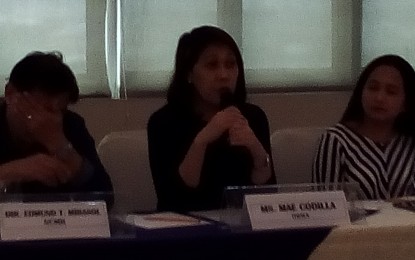 CEBU CITY -- The Overseas Workers Welfare Administration in Central Visayas (OWWA-7) will start accepting applications for its Education for Development Scholarship Program (EDSP) and OFW Dependents Scholarship Program (OFWDSP) for the 2019-2020 school year this April.
Acting OWWA-7 Director Mae Codilla said Friday they are making the announcement this early to give interested applicants ample time to prepare the necessary requirements.
The EDSP and OFWDSP are offered to qualified dependents of active OWWA-member OFWs desiring to enroll in any four- or five-year course in any college or university. The OFWDSP, however, is for dependents of an OFW whose monthly salary in not more than US$600.
"For incoming freshmen for the next school year, we are waiting for the results of the National Qualifying Examination administered by the Department of Science and Technology last Oct. 21, 2018 to identify the top 400 qualifiers nationwide who will earn a scholarship slot in the EDSP," Codilla said.
She said a total of 335 applicants from Central Visayas took the exam last year and those who made it to the top 400 in Region 7 will be duly notified.
Codilla also announced that OWWA-7 will likewise start accepting applications for the 2020-21 school year in April as the national qualifying exam will once again be conducted this year.
She said applicants must either be a child or sibling of an OFW who is not more than 21 years old and a Grade 12 graduating student by March or April 2020, with a General Weighted Average of 80 percent or higher and must belong to the top 20 percent of the graduating class.
For the OFWDSP, a total of 54 slots for incoming freshmen are allocated for Region 7 – 13 slots each for the provinces of Cebu, Bohol, and Siquijor, and 15 slots for Negros Oriental, which is one of the poorest provinces in the country.
OWWA-7 currently has 63 EDSP scholars and 125 scholars under the OFWDSP, Codilla said. (PNA)