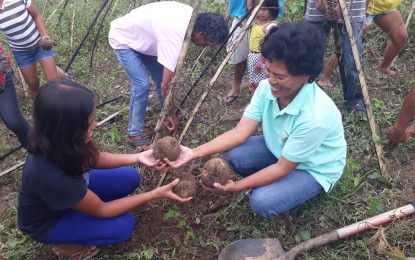 TAGBILARAN CITY — She did not expect to be an ubi kinampay (purple yam) farmer, but when Concordia "Nang Cita" Alcomendras accepted the offer of the municipal agriculture's office (MAO) of Sagbayan, Bohol to transform her small farmland into an ubi techno demo farm, it drastically changed her life.
Nang Cita became one of the successful women-cooperators in Barangay Langtad supported by the Department of Agriculture (DA)-7 (Central Visayas) and the MAO of her town using her quarter-of-a-hectare land to harvest around 2,500 kilos of ubi kinampay, for the entire planting season, DA-7 information officer Cheryl dela Victoria said.
Thankful to the government's help in making her a successful ubi grower, Nang Cita boasted of her bountiful harvest of ubi kinampay (Dioscorea alata), a variety of yam native to Bohol.
"Daku kaayo ako pasalamat sa DA-7 nga ako ang napili nila nga mahimong Ubi Woman-Cooperator para sa techno demo. Daghan kaayo ko nakat-unan sa maong pagbansaybansay. (I am very grateful to DA-7 for choosing me to be a woman farmer cooperator for the Ubi Techno Demo. During the said training, I learned a lot)," she said.
"Sa una man gud, kun mananum mi og ubi, ang amo ra ani kay usa ra ka sako. Karon, daghan kaayo ang unod sa akong ubi nga niabot na og 2,500 kilos. Aron pagmatuod sa gidaghanon sa harvest, amo ni gikilo kay kuhaan man og record document. Mosobra pa ni kun maharvest na namo ang nabilin nga pito ka tudlingan (But now, there are plenty of ubi harvested which almost reached 2,500 kilos. To prove the yield, we have all the tubers weighed for record and documentation. This will go beyond once we finished harvesting the remaining seven rows)," she said.
It was Nang Cita's first time to become a farmer cooperator and also her first time to plant ubi kinampay, dela Victoria told the Philippine News Agency (PNA).
"During her younger years, they plant the native ubi and could barely harvest one sack," she noted.
When Nang Cita agreed to plant ubi kinampay, instead of her first wish to plant peanut, she was provided with ubi planting materials. She said she managed to cover some 3,339 hills.
DA-7 and the agriculture office of Sagbayan provided her with access to technologies, fertilizers, bamboo slabs, and technical support, she said.
Dela Victoria said they were motivated to assist the woman Nang Cita because of her commitment to extend her only counterpart in the undertaking --labor.
"Being a farmer-cooperator, we call her ubi farm as techno demo on ubi production," dela Victoria said.
"The Initial planting of the ubi was done by the staff of DA-Bohol Experiment Station (BES). Nang Cita was able to catch the technique she observed in the experimental stage. She was able to follow the proper way of planting based on the recommendation."
Nang Cita and other farmers in Langtad were provided with trainings and hands-on application under the guidance of DA-BES staff.
It was already beyond the ubi planting season when Nang Cita finished planting on her ¼-hectare farmland on July 3, 2018.
"Although she was so late in catching up within the planting months of April to May, she was still successful in cultivating her ubi farm as compared to other ubi farms planted within the season yet suffered diseases," dela Victoria said.
"Nang Cita's hard work and determination was the key to her successful cultivation of ubi kinampay. And her being a woman, her decisions matter most in her successes," she said, noting that ubi farmer was not dependent on her husband who supports her work.
Following the right distance of one-meter per row and 0.75cm distance per hill, with the right technologies on ubi production to include weeding, fertilization, trellising, Nang Cita was able to attain the 2,500-kilogram harvest.
Based on the techno-demo project implementing guidelines, a farmer cooperator agrees to provide the DA with 350 kilos of ubi which are used for a re-dispersal program to other farmers interested in planting the same variety.
The 350 kilos of Nang Cita's produce were given to the Bohol Ubi Growers Association (BUGA), whose officers will also give to interested ubi growers their initial cropping material.
Bohol is known for the ubi kinampay, an ubi cultivar (variety) which has aromatic, violet flesh.
Ubi's farm gate price is PHP45 per kilo. Nang Cita's 2,500-kilo harvest less the 350 kilos given to fellow farmers for further cultivation, meant a net produce of 2,150 kilos, which was translated to a whooping PHP96,750 gross income. (PNA)