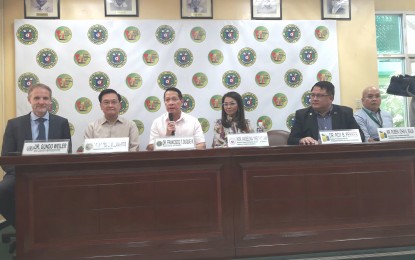 MANILA -- Health Secretary Francisco Duque III on Thursday lauded the signing of the Universal Health Care (UHC) Act by President Rodrigo Duterte into law.
"The UHC law demonstrates the result of a strong political will that places the welfare of our countrymen above all else. Indeed, together we can achieve great strides towards building a strong and equitable health system that all Filipinos dream of and deserve," Duque said in a press briefing.
Duque said the UHC law will provide a full range of quality health services - from preventive, promotive, curative, rehabilitative and palliative - at an affordable cost.
Meanwhile, World Health Organization country representative Gundo Weiler, who was also in the briefing, said the signing of the law is a proof of commitment to improving access to high quality health services at the least cost to families.
"It is a critical step towards health for all Filipinos as it will facilitate major reforms to consolidate existing yet fragmented financial flows, increase the fiscal space for benefit delivery, improve the governance and performance of devolved local health systems, and institutionalize support mechanisms such as health technology assessment and health promotion," he said.
For the provisions of the UHC law to be implemented, Weiler stressed that it must be adequately funded.
"With different proposals on the table, I just want to reiterate that we give our full support to increase of tobacco tax as one of the measures to increase UHC income, for us tobacco tax is a win-win situation it does protect the population and at the same time it provides additional resources for the full implementation of the act," he added.
On the other hand, Philippine Health Insurance Corporation (PhilHealth) acting president Roy Ferrer said the UHC law makes all Filipinos members of Philhealth with full access to primary care services.
"PhilHealth shall develop an outpatient benefit package within two years for all members which shall include consultation fees, laboratory tests, diagnostic tests, procedures and outpatient medicines. PhilHealth is prepared to face all the challenges towards the realization of UHC," he said.
Ferrer added that PhilHealth will ensure the consultation of all stakeholders during the completion of the implementing rules and regulations of the UHC law within 180 days.
Senator JV Ejercito, author of the bill in the Senate, thanked President Rodrigo Duterte for trusting all the authors and supporters of the UHC Act.
"Wala nang dapat magipit kapag magkakasakit, hindi na dapat matakot ang taumbayan, dahil nandiyan na ang suporta at ayuda ng pamahalaan. Salamat po muli, Pangulong Duterte sa inyong tiwala (The sick need not feel harassed, the people need not be scared, because the support and financial aid of the government is already there. Thank you again, President Duterte for your trust", he said. (PNA)