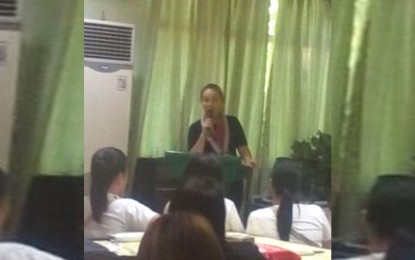 SAN JOSE DE BUENAVISTA, Antique -- Public school teachers are expected to receive a PHP1,000 one-time allowance during the celebration of World Teacher's Day.
Senator Loren Legarda, in her message during the 44th Antique Public School Teachers' Association's (APSTA) annual representative assembly here Friday, announced that she has initiated the giving of PHP1,000 per teacher as additional allowance during the event, which is observed every October 5.
"The PHP1,000 allowance per teacher is to be implemented nationwide, tax free," she said, noting that the allowance is one way of recognizing the noble contribution of teachers in the education of their pupils.
Legarda, who chairs the Senate Committee on Finance, said there is an PHP800 million allocation for the provision of the allowance in the 2019 General Appropriations Act (GAA), which will hopefully be signed by President Rodrigo Duterte next month.
The additional allowance stands to benefit some 7,000 public school teachers in Antique.
APSTA president Dr. Demar Cahilig welcomed the good news, saying that teachers do not get any monetary gift when they celebrate World Teacher's Day.
He said they are nonetheless thankful for the flowers and cards that students give them as a token of gratitude.
"The additional allowance would really mean a lot for us," an APSTA member, who declined to be identified, said.
Meanwhile, Cahilig also said that they would like to ask Legarda if they could be given a Provident Fund of about PHP2 million to augment their meager seed capital.
"Teachers succumb to borrowing money from loan sharks because we do not have enough funds to lend to them," he said.
Due to the limited fund, the APSTA could only lend a maximum of PHP15,000 per teacher with an interest of PHP2,000 annually.
The senator advised them to submit a proposal, together with their request for fund for the repair of their old, dilapidated office.
APSTA, an organization of active and retired public school teachers in the province, has some 1,600 active members. (PNA)