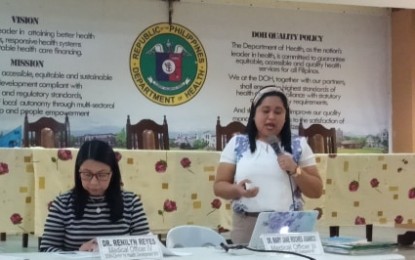 ILOILO CITY -- A total of 133 local government units (LGU) in Western Visayas had started its door to door immunization on measles targeting children aged six to 59 months to prevent the spread of the disease.
Data from the DOH 6 shows that suspected measles cases on February 22 reached 688 with 33 laboratory confirmed measles cases.
Dr. Marlyn Convocar, DOH 6 regional director, said that the youngest recorded measles case was a four year old infant from Bacolod City while the oldest was a 64-year old male from Hinigaran, Negros Occidental.
Out of the 133 LGUs, 101 will conduct non-selective immunization which means that all children aged 6 to 59 months old will be vaccinated regardless of their vaccination status, while the remaining 32 will conduct selective immunization.
Dr. Mary Jane Roches Juanico, DOH-6 Medical Officer III, said the 32 LGUs were already subjected to two batches of Measles Rubella Supplemental Immunization Activity (MR SIA) done on second and fourth quarters of 2018 because of their recorded suspected measles cases.
"Selective immunization means vaccinators will target children that were under aged last year but are now suitable for vaccination, and children whose parents refused vaccinating their kids last year," she said in a press briefing on Friday.
These LGUs include the thirteen towns in Negros Occidental; six towns each in Antique and Iloilo province; three towns in Aklan; one town each in Capiz and Guimaras; Bacolod City; and Iloilo City.
The second batch of immunization covering the 32 LGUs were able to reach 195, 000 out of the 339, 000 target children.
The door-to-door immunization is spearheaded by the rural heath units (RHU), municipal health offices, public health nurses, and midwives. (PNA)