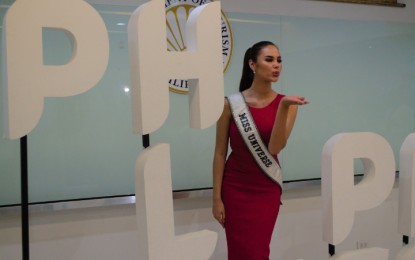 MANILA -- The Department of Tourism (DOT) will continue working with Miss Universe 2018 Catriona Gray in promoting the Philippines as President Rodrigo Duterte seeks to tap the beauty queen as the country's tourism ambassador, Tourism Secretary Bernadette Romulo-Puyat said Tuesday.
"We want her to be our tourism ambassador. According to the President he really wants her to be our tourism ambassador," Romulo-Puyat told reporters when asked if the agency will ask Gray to serve the role after her reign as Miss Universe 2018.
Romulo-Puyat said Gray herself was excited in further promoting the country's destinations.
"She wants to promote all, she was saying there's so much to offer, so much to show the world," Romulo-Puyat said.
Gray on Tuesday paid courtesy calls on Senate President Vicente Sotto III prior to her meeting with Romulo-Puyat and other ranking DOT officials in Makati City.
During her speech, Romulo-Puyat stressed that Gray has vigorously promoted the country even before she won the prestigious pageant in 2018.
The DOT has been instrumental in her introduction clip for the Miss Universe competition featuring the beauty of the world-renowned Palawan and Mindanao, among others.
"Cat has already been promoting the Philippines even before she won and thank you for that for promoting Luzon, Visayas, and Mindanao. You have made our country proud," she said.
"Because of you becoming Miss Universe, the Philippines... there is now awareness all over the world," she noted.
Gray, meanwhile, said promoting the Philippines is "something she is very passionate about."
"I feel like if people will see what we have to offer, the level of interest will spike. We have so much potential to share that with the rest of the world. I hope that in my own way of being Miss Universe 2018, I could work in promoting the Philippines," she said. (PNA)