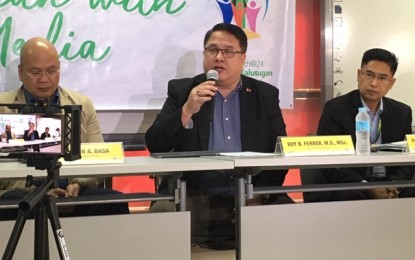 MANILA -- With the recent enactment of the Universal Health Care (UHC) law, all Filipinos now have immediate eligibility and access to preventive, promotive, curative, rehabilitative, and palliative care.
In a recent press briefing, PhilHealth acting president Roy Ferrer said UHC assures 100 percent population coverage and guarantees everyone outright entitlement to medical, dental, mental and emergency health services as long as conditions set forth by law are met.
Ferrer said PhilHealth's membership categories have been simplified into two -- the direct contributors and the indirect contributors.
"Iyon pong (These are the) direct contributors are those employed under an employer-employee relationship, self-earning individuals, professional practitioners, migrant workers and lifetime members. The indirect contributors are incapable of paying premiums and shall be subsidized by the government, these are our senior citizens and indigent by virtue of special laws," he said.
Liset Taylo, 47, a PhilHealth member for more than 10 years, told Philippine News Agency (PNA) that the automatic membership of all Filipinos to PhilHealth would make things easier for those who need health benefits.
"Sa mga ma-oospital, malaking tulong iyon lalo na kung medyo kulang ang budget sa pagpapagamot (For those who'll be hospitalized, it will be a big help especially if they have tight budget for medications)," she said.
On the other hand, 85-year-old Adoracion Dare said the provision is unfair to the paying members of PhilHealth.
Dare added she has completed all her PhilHealth contributions up to her last year of employment. She's happy with the services of PhilHealth as she was able to receive discounts on the hospitalization bills of her mother who is her primary dependent.
"Maganda naman ang goal ng batas na UHC, pero unfair na parang pantay-pantay na lang lahat ng nagbabayad at hindi nagbabayad. Lalo sa amin na matagal nang nagbayad ng contributions. Iyong bagong miyembro ba at mga paying members bago mag-UHC hindi na ba magbabayad? (The goal of the UHC law is good, but is unfair those who are non-paying and paying members will be equal. Especially to us who have long paid the contributions. Are the new members and the paying members before the UHC bill not going to continue paying premiums)," she said.
Ferrer clarified that direct contributors need to continue paying their premiums even though the UHC has been enacted.
PhilHealth acting senior vice president Rodolfo del Rosario said direct contributors must keep in mind that the UHC upholds social solidarity principle.
"Dapat tanggapin nila na ang kanilang contributions will be used for the benefit of our fellow Filipinos. Kung tayo noong mga bata tayo noong nagsimula tayo ng Medicare o PhilHealth na, tayo din naman ay na-subsidize na ng mga naunang nagbayad (They need to accept that their contributions will be used for the benefit of our fellow Filipinos. When we were younger if we started with Medicare or PhilHealth already, we were also subsidized by the first batches of contributors)," he said.
On the other hand, Dare stressed that direct contributors should at least have more benefits than the indirect contributors.
"Halimbawa, sa hospitalization, sana mas mataas ang babayaran ng PhilHealth sa mga gastusin namin dahil nagbayad naman kami (For example, in the hospitalization, hopefully PhilHealth will pay us more in our expenses since we pay contributions)," she added.
Comprehensive Outpatient Benefit Package
PhilHealth executive vice president Ruben Basa said the agency is given 180 days to create the implementing rules and regulations (IRR) of the UHC law which may include additional incentives to direct contributors.
"Now, we have expanded primary health care benefits kasama ang (including the) indigents, formal sector of the economy and senior citizens. Secondly, we included the private health services providers and thirdly, we included the medicines, before we just have diagnostics and consultations," he said.
The agency's existing Primary Care Benefit Package includes preventive services, diagnostic examinations and medicines offered to the indigent, kasambahay (house helpers), overseas Filipino workers and Department of Education personnel.
Meanwhile, del Rosario added they are looking into giving "additional benefits on higher accommodations for direct contributors".
"Mahirap kasi mag-announce ngayon without the IRR but the intention of the law really is for the direct paying members. Now, regardless of your classification, in the basic accommodation we all have similar benefits," he said.
Ferrer added that PhilHealth has also launched a new benefit package for children with disabilities in addition to the current Z Benefits Packages.
"These are for children with visual impairment, hearing disability, mobility impairment and developmental disabilities. They were developed in accordance with PhilHealth's mandate to provide financial risk protection, they're designed to cushion catastrophic spending especially among our needy and vulnerable members," he said. (PNA)