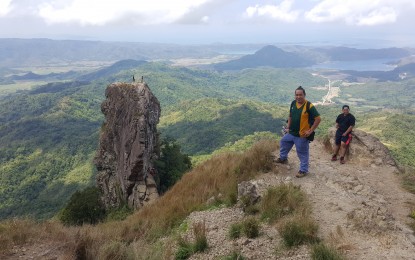 MARAGONDON, Cavite -- The famous Pico de Loro peak in Mount Palay Palay/Mataas na Gulod in this mountainous historic town will reopen its trails to the public starting March 30 with stricter rules imposed, after almost three years of closure for its rehabilitation.
According to the Protected Area Management Board (PAMB) of Mount Palay Palay/Mataas na Gulod Protected Landscape (MPPMNGPL), hikers are no longer allowed to go up the park summit, from where the iconic Pico de Loro monolith, named as such because it resembles a parrot's beak, is accessible.
Based on a study made by the Mines and Geosciences Bureau (MGB) 4-A (Calabarzon), the monolith is no longer safe.
Park visitors and hikers also need to book online because walk-in visits are no longer allowed. The website will be available this month, according to the PAMB.
Only a certain number of visitors will be allowed each day. The PAMB has implemented a scheduling system to prevent massive hikes that can destroy the trail. A systematic schedule will allow small groups to hike at a time to prevent overcrowding and destruction of vegetation.
Unlike before, overnight camping is now prohibited. The park also imposes a strict Leave No Trace (LNT) policy.
All hikers would be accompanied by trained eco-guides to keep them safe and to monitor their activities while inside the park. The PAMB has trained guides, wildlife enforcers and first-aiders in the area.
Visitors will also undergo a visitor management and orientation program and signing of waiver before they can hike.
The park also strictly prohibits the bringing of deadly weapons, alcohol and any prohibited drugs.
In accordance with the Presidential Executive Order No. 26 or the National Smoking Ban of 2017, smoking (including vaping) is not allowed while inside the park's premises other than the designated smoking area.
The park still prohibits traversing to other mountains for security and safety of the hikers. The only entry/exit point is through the Department of Environment and Natural Resources (DENR) station in Ternate town.
"This is good news for all the hikers of Pico de Loro. PAMB's program ensures that the park is clean and not abused by irresponsible hikers," Tony Ruiz, a mountaineer, said in an interview.
The trail was closed to mountaineers on Oct. 1, 2016 for rehabilitation. Stalls were built inside the park to help local people's organizations to participate as part of the park's ecotourism and socio-economic activity. (PNA)