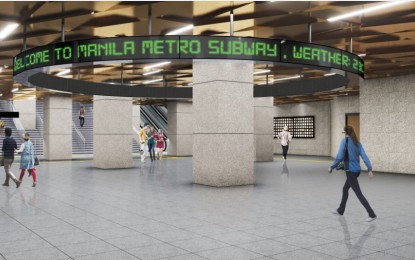 MANILA -- Some stations of the Metro Manila Subway System will rise on government properties to ensure that it is accessible to the riding public and to increase the value of land surrounding them.
The Department of Transportation (DOTr) said investments that would be generated along the stations in government properties will be used for the repayment of loans to fund the construction of the subway, as well as other government projects and services.
"Since railway stations increase the value of surrounding land, locating them in government properties mean that government will benefit from some of the increase in value that the railway system will generate," DOTr Assistant Secretary for Communications Goddess Hope Libiran said in a text message to the Philippine News Agency (PNA) on Wednesday.
She said discussions are ongoing regarding the acquisition for the building of the stations on government lands.
"We will also ensure that the stations are within reach of its intended riders," she said.
The following stations will be built on government properties:
— North Avenue Station (inside Veterans Memorial Center Golf Course)
— Quezon Avenue Station (along EDSA in front of Manila Seedlings Bank)
— Katipunan Station (inside Camp Aguinaldo)
— Lawton East Station (inside National Mapping and Resource Information Authority property)
— Lawton West Station (inside Bases Conversion and Development Authority property)
— Ninoy Aquino International Airport (NAIA) Station (Terminal 3)
The 36-kilometer Metro Manila Subway will have 15 stations from Quirino Highway in Quezon City to NAIA Terminal 3 in Pasay City and FTI in Taguig City which will traverse seven localities and pass through three of Metro Manila's business districts.
Travel time from Quezon City to NAIA Terminal 3 is estimated to be reduced to only 30 minutes with trains running at speeds of up to 80 kilometers per hour.
The groundbreaking of the country's first underground railway system was held last February 27. The Metro Manila Subway's first three stations -- Quirino Highway-Mindanao Avenue, Tandang Sora, and North Avenue -- are expected to be operational in 2022.
The joint venture of Shimizu Corp., Fujita Corp., Takenaka Civil Engineering Co. Ltd., and EEI Corp. will be in charge of designing and building this segment of the subway system.
The DOTr aims to bid out the construction of the five remaining segments of the Metro Manila Subway by the end of the year. It also targets to bid for its operations and maintenance within the same period.
The department also plans to initially procure 19 train sets consisting of eight cars with the option to increase up to ten cars in each set.
The Metro Manila Subway is expected to have its partial operations on 2022 and become fully operational by 2025.
It is seen to serve up to 370,000 passengers daily during its first year of full operations with a design capacity of accommodating up to 1.5 million passengers per day. (PNA)