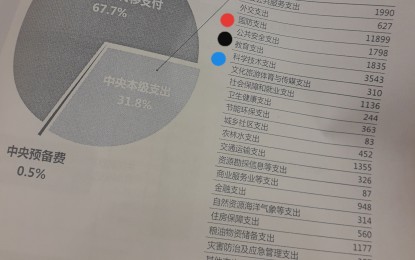 BEIJING – Defense sector is the top priority of the Chinese government in terms of spending this year, as it gets the lion's share of the central government budget in 2019.
In its draft central and local budgets for 2019 released by the Ministry of Finance Thursday, defense expenditure accounted for 33 percent of China's central government spending program for 2019 amounting to RMB1.19 trillion (around PHP9.27 trillion).
Proposed central government budget for 2019 is at RMB3.54 trillion (PHP27.6 trillion), higher by 6.5 percent from its 2018 spending program, Chinese Finance Minister Liu Kun said in a press briefing this morning.
Defense budget as a top priority is not new for this country, which military power is gaining strength.
Last year, China also earmarked the largest budget for defense amounting to RMB1.12 trillion or 33.8 percent of the RMB3.27 trillion central government expenditure program in 2018.
Premier Li Keqiang, at the opening of the second session of the National People's Congress (NPC) this week, announced that defense budget increased by 7.5 percent from the allocation in 2018.
However, the budget hike slowed down by 0.6 percentage points from the announced growth last year of 8.1 percent.
Li said this increase in defense budget targets to strengthen its military and further modernize the sector's equipment.
In an earlier briefing, NPC spokesperson Zhang Yesui defended the defense budget hike amid growing concerns in the international community, noting that this should not be a threat to China's neighboring countries.
Moreover, debt service payments shared the second largest budget this year amounting to RMB499.4 billion or 14 percent of the total central government spending. It increased by 20 percent from last year's allocation of RMB416.2 billion.
Budget for science and technology grew by 13.5 percent to RMB354.3 billion this year from RMB312 billion last year. Spending on science and technology accounted for 10 percent of the proposed central government budget as the Chinese President Xi Jinping aims to boost innovation in China.
Public service expenditure further increased to RMB199 billion, a 32.3-percent jump from last year's spending of RMB150.4 billion. Public service spending climbed to fourth spot from being the fifth priority of the Chinese government in terms of expenditure in the previous year.
Completing the top five priorities in central government's budget is education. Chinese central government targets to spend RMB183.5 billion in education this year, 6 percent higher from 2018's budget of RMB150.4 billion.
Overall, China's central general public budget – composed of allotment for local governments and central government -- rose 8.7 percent this year to RMB11.13 trillion
Allocation for local governments' budget shared 68.1 percent and central government spending at 31.9 percent. (PNA)