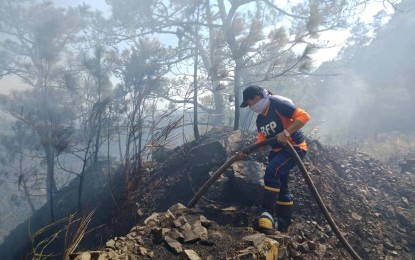 BAGUIO CITY -- The Bureau of Fire Protection (BFP) and the Department of Environment and Natural Resources in the Cordillera on Tuesday said 165 fire incidents have been recorded from January 1 to March 12 this year, which led to the destruction of 797 hectares of forestlands.
Senior Supt. Sofia Mendoza, BFP-Cordillera regional director, said out of the 165 fire incidents, 122 were grass and forest fires, 36 structural fire incidents with 27 of them being residential and seven "other" fires.
The BFP estimated the cost of damage due to fire incidents at PHP20.94 million.
Meanwhile, Augusto Lagon, Department of Environment and Natural Resources (DENR) Cordillera assistant regional director for technical services, said the 122 grass and forest fires had an estimated damage of PHP4.31 million.
Lagon said 704.23 hectares of natural forests and 92.96 hectares of plantation forests have been destroyed due to "kaingin" or slash and burn farming, arson, indiscriminate throwing of cigarette butts, unattended burning of garbage, and campers who are unable to control the fire from their food burners.
Lagon said most of the forest fires occurred in Benguet involving 683.4 hectares; 88.8 hectares in Kalinga; and 24.95 hectares in Mountain Province.
In a separate interview, Benguet Provincial Environment and Natural Resources Office (PENRO) chief Carlos Arida Sr. said based on their assessment, as a result of the aerial survey on March 8, the forest fires were correlated to farming.
"Kasi kung makikita mo ang start ng fire nasa tuktok pababa na parang ang purpose as expansion ng agricultural farms (If you can see, the fire started at the top of the mountain going down which indicates that they are expanding their agricultural farms)," Arida said.
He said filing a case is not feasible due to the difficulty of looking for witnesses.
Arida, however, said they have a case in Mankayan where they caught the perpetrator and the case was amicably settled. The perpetrator paid a fine amounting to the cost of the reforestation of the burned area.
Arida said they have recorded 19 forest fires in all municipalities of Benguet.
He said the fire in January 2018 in Mt. Pulag, which was caused by the uncontrolled fire from the cooking equipment of a camper, is still being heard in court.
He said the parents of the accused in the criminal case sought for the settlement of the administrative case and was fined the amount of PHP53,900 as a compromise agreement.
The fire destroyed around 23,600 hectares at the summit area of the mountain.
The DENR closed the area for about six months to allow the grass to grow again, preventing hikers from going up to the summit. Campers are only allowed up to the second camp site.
Mt. Pulag has become popular because of the sea of clouds seen by mountain hikers in the area. (PNA)