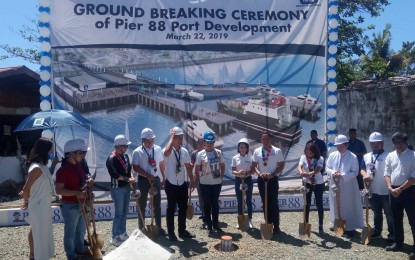 CEBU CITY — A new passenger ferry and cargo vessel port, which will soon rise in Poblacion, Liloan town in Cebu, is expected to benefit some 10,000 residents from the northern towns and cities - who are working on Mactan Island and the central city of Cebu, the town mayor said.
The groundbreaking of the facility on Friday was led by Davao City Mayor Sara Duterte, Presidential Assistant for the Visayas Michael Lloyd Dino, and top executives of private companies that will undertake the port construction project and operation.
Liloan Mayor Christina Garcia-Frasco said there are over 10,000 residents from her town, all the way to Danao City, who will gain from the project as the usual three-hour travel time will be cut to just 35 minutes.
These workers are currently employed in different locators at the Mactan Export Processing Zone and other establishments in neighboring cities in the metropolis.
Mayor Sara cited the unique arrangement of the project and its operation by a private firm. The property is from the Roman Catholic Church while the road network leading to the port is maintained by the local government unit of Liloan.
"It's noteworthy that everyone is coming together to think about the quality of life and the standard of living of the people of Liloan," she said.
The presidential daughter commended the investors and the officials responsible for the project.
"This will open to more doors for investment," she said.
Fomer Cebu Port Authority (CPA) commissioner Duke Frasco, now a candidate as representative for the Cebu fifth congressional district, said the plan to put up a local port in Liloan was hatched two and a half years ago.
He thanked CPA General Manager Angel Verdan for approving the project.
The proposal was to construct the port's phase 1 that would cost PHP200 million, he said.
Kyle Gregory Uy, vice president and chief operating officer of Pier 88 Ventures, Inc., said the development will bridge the gap from Liloan to Cebu City and Mactan. He pledged to invest PHP1 billion for the project.
The port will be operated by Topline Group, headed by its president and chief executive officer, Eugene Erik Lim. (PNA)