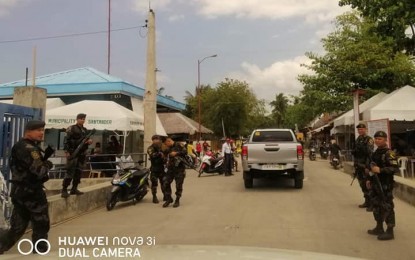 DUMAGUETE CITY -- The province of Negros Oriental is under full alert status beginning Monday in anticipation of possible attacks by the New People's Army (NPA) in line with its 50th founding anniversary on March 29.
Colonel Raul Tacaca, Provincial Police Director, confirmed this, after having received a directive from Police Regional Office 7 (PRO7) director, Brig. Gen. Debold Senas.
During a staff conference at the Negros Oriental Provincial Police Office (NOPPO), Tacaca said they discussed concerns regarding the full alert status with police chiefs instructed to review and undertake target hardening measures to foil possible atrocities by the NPA.
"Alam naman natin na may presence tayo ng NPA dito at active sila (We know that there is NPA presence in the province and they are active," he said.
Tacaca cited a recent incident where alleged NPA hitmen shot a policeman in Manjuyod and "so we are undertaking preventive measures".
The NOPPO director also confirmed the deployment of additional troops to areas that are deemed critical or those with strong presence of the NPA but declined to elaborate, saying these are "operational details".
He said that part of the security measures is securing the ports of entry and exit, such as sea ports, bus terminals and other areas of convergence.
Due to the full alert status, all police personnel are on standby and no one is allowed to go on leave or secure a pass, Tacaca said.
The full alert status remains in effect indefinitely until further notice.
Meanwhile, the Provincial Joint Task Force on Security will also be meeting soon to discuss security measures in the wake of the NPA's anniversary, according to its head, Bimbo Miraflor. (PNA)