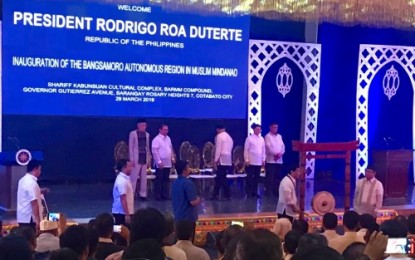 SHARIFF KABUNSUAN COMPLEX, Cotabato City -- President Rodrigo Duterte reiterated here Friday his commitment to work for the benefit of the Moro people until the end of his term in 2022.
Speaking during the inaugural session of Bangsamoro Autonomous Region in Muslim Mindanao (BARMM) interim parliament, the President vowed to work for peace in southern Philippines.
The Chief Executive, who arrived here around 6:30 p.m., banged an "agong" (Muslim brass drum) marking the induction of the BARMM and its interim parliament, the 80-member Bangsamoro Transition Authority (BTA).
"Let me repeat and reiterate my solemn promise to you a sacred one, that in my term and for the next three years, we will all work and truly work for the benefit of the Bangsamoro people," the President told BARMM officials led by interim Chief Minister Ahod "Al-Haj Murad" Ebrahim and the BTA members.
In one of his shortest public speeches, the President repeatedly said he was happy for the success of the new political entity in Mindanao.
Duterte, who had just celebrated his 74th birthday on Thursday, said it was his greatest birthday gift to date, seeing the success of the BARMM.
"To my dear Bangsamoro sisters and brothers, in the BTA, the power to chart the course of your region's future is now in your hands," he said. "I trust that you will wield this power with utmost care."
"As we enter the transition period, I ask everyone to work towards building lasting peace and inclusive progress that will benefit the entire Mindanao and the country as well," he added.
Early on, Murad said in his welcome address that the President's banging of the "agong" marks a new beginning for the Bangsamoro people. He also led the BTA members in vowing for moral governance before the Quran.
"We vow to make moral governance as the foundation of peace leadership," Murad said.
The BARMM is the result of the decades-long peace negotiation between the government and the Moro Islamic Liberation Front (MILF).
The region's BTA will run the affairs of the now-defunct Autonomous Region in Muslim Mindanao until the new set of regular officials shall have been elected in 2022.
The President earlier thanked the Commission on Elections, the teachers who served as poll officials, police and military officials and all who contributed to the peaceful conduct of the BARMM plebiscite last January 21 and February 6.
Accompanying the President in the historic BARMM inauguration were Department of the Interior and Local Government Secretary Eduardo Año, Department of Agriculture Secretary Emmanuel Piñol and Presidential Peace Adviser Carlito Galvez. (PNA)